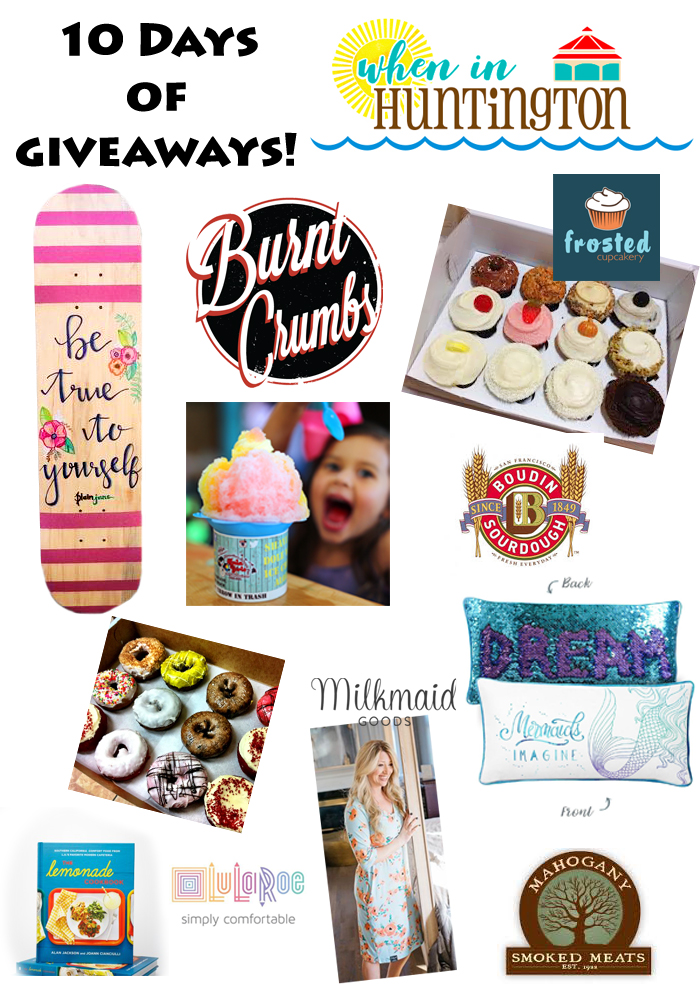 We are so grateful for all the love and support you've given our new venture and blog we wanted to pay it back to you all by doing 10 DAYS OF GIVEAWAYS!  Here is a sneak peak of some of the amazing items our wonderful and favorite Huntington Beach vendors have graciously donated!  Be sure to check back ON THIS POST DAILY starting April 9th, where we will announce a new giveaway each day!  You can enter and RE-ENTER each giveaway EVERYDAY until April 20th. All winners will be announced on the 21st of April.
***Though you can enter on your phone, it has come to our attention that it is easier to enter the raffle from your desktop computer.
TEN DAYS OF GIVEAWAYS!!!!
April 9th – $20 Gift Card to Hula Girls Shave Ice
April 10th – A Dozen Gourmet Cupcakes from Frosted Cupcakery Pacific City
April 11th – $75 to Milkmaid Goods
April 12th – $25 to Boudin SF Huntington Beach
April 13th – LulaRoe Sara Blume 2 Pair of Leggings
April 14th – $25 to Burnt Crumbs at Pacific City
April 15th – $20 to The Donuttery
April 16th – A Plain Jane Skateboard Deck
April 17th – $20 to Mahogany Smoked Meats & The Lemonade Cookbook
April 18th – $50 to Mermaid Pillow Co
We love you so much and wish you good luck!  xoxo, Jamie and Michelle