(KNOTTS PARTNER)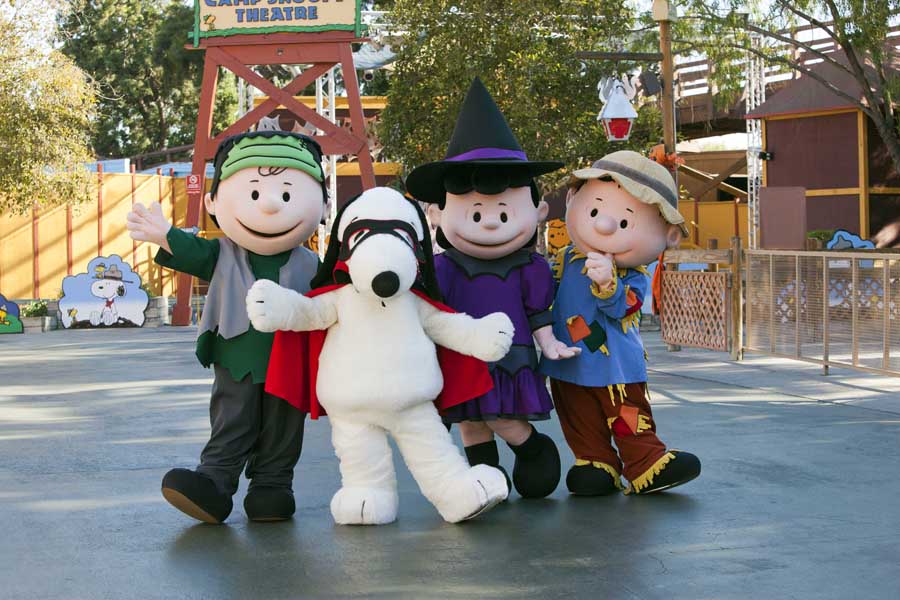 KNOTT'S SPOOKY FARM is in full swing and our HB Littles were so excited to experience all the spooky ookies that were waiting for them at Knott's Berry Farm.  If you haven't been, this is the best place to enjoy the spirit of Halloween without scaring the bejeebies out of your babes.  Everything is so cute and festive there are picture opportunites around every corner.  Knott's Spooky Farm is a limited-time weekend event perfect for families this Halloween season.  Bring your families to Trick or Treat, decorate pumpkins, enjoy festive shows and to enjoy the Halloween themed rides and treats!  Check out some of our Spooky Farm fun…
The girls were so excited to show off their costumes this year!  I love that we get opportunities to wear them more than just on Halloween!  And gotta have that lipgloss on just right!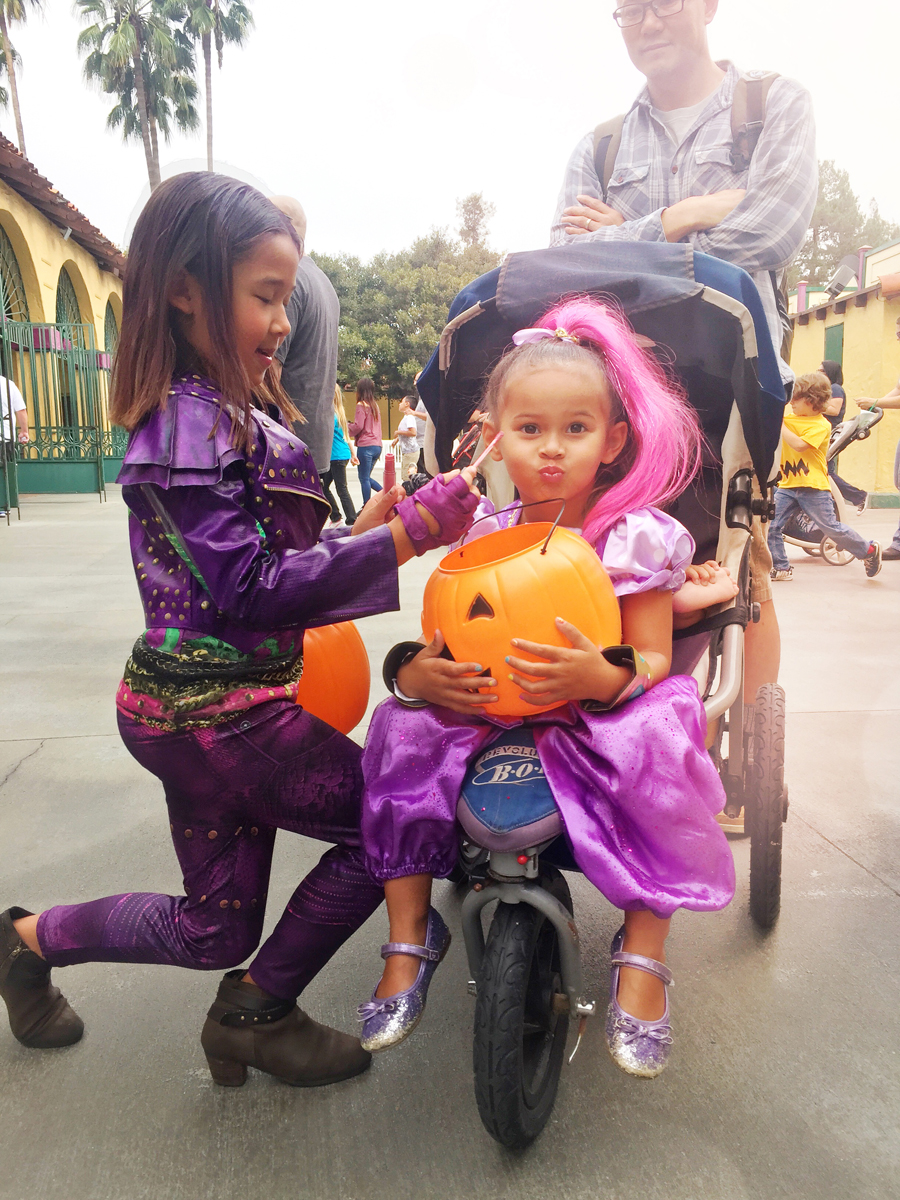 When you get to Knott's Spooky Farm, we recommend starting your day off in GHOST TOWN!  That's were most of the trick or treating is going on and there are so many fun characters that want to interact with you!  The kids grabbed their treat bags joined our friends from the Popsicle Blog and headed in to TRICK OR TREAT.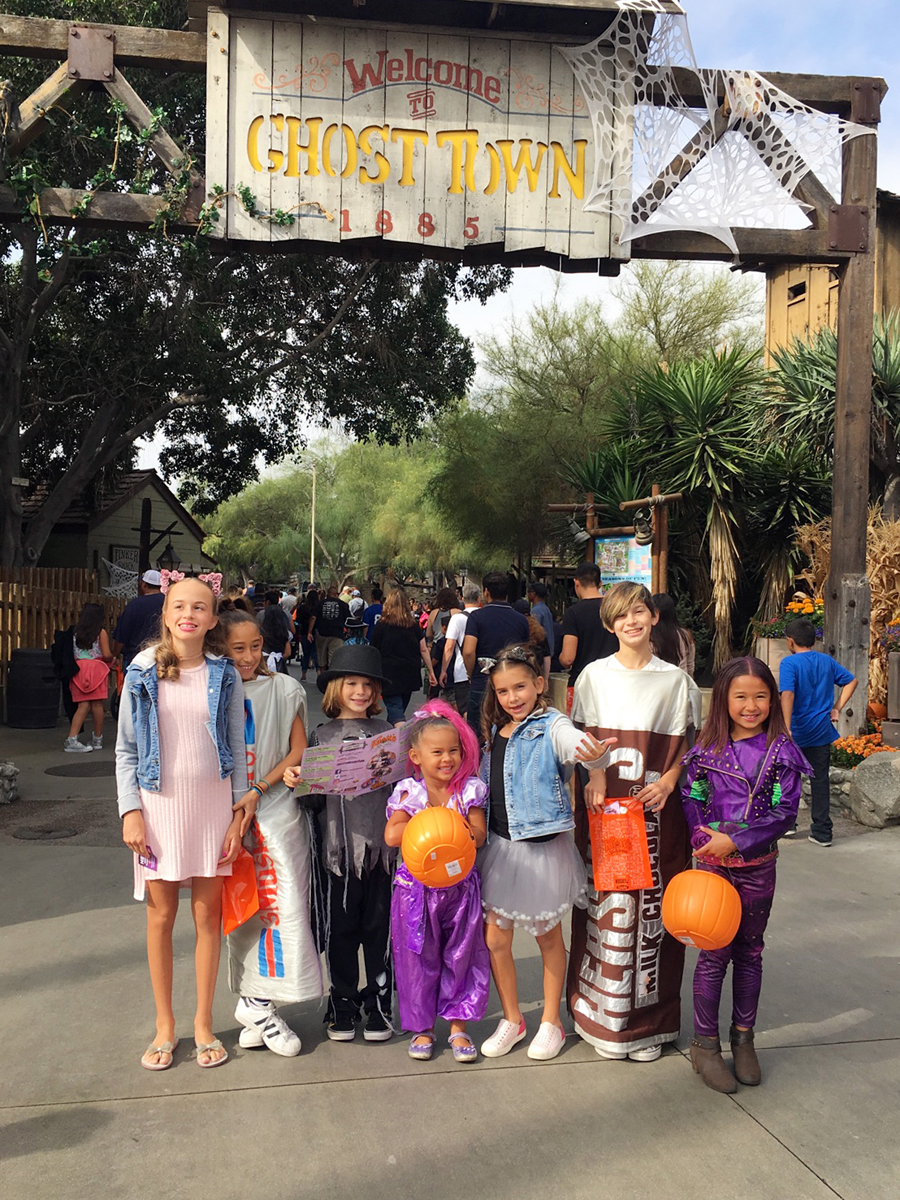 There is candy around every corner in Ghost Town, the kids were thrilled to fill up their treat bags with a variety of sweets and treats.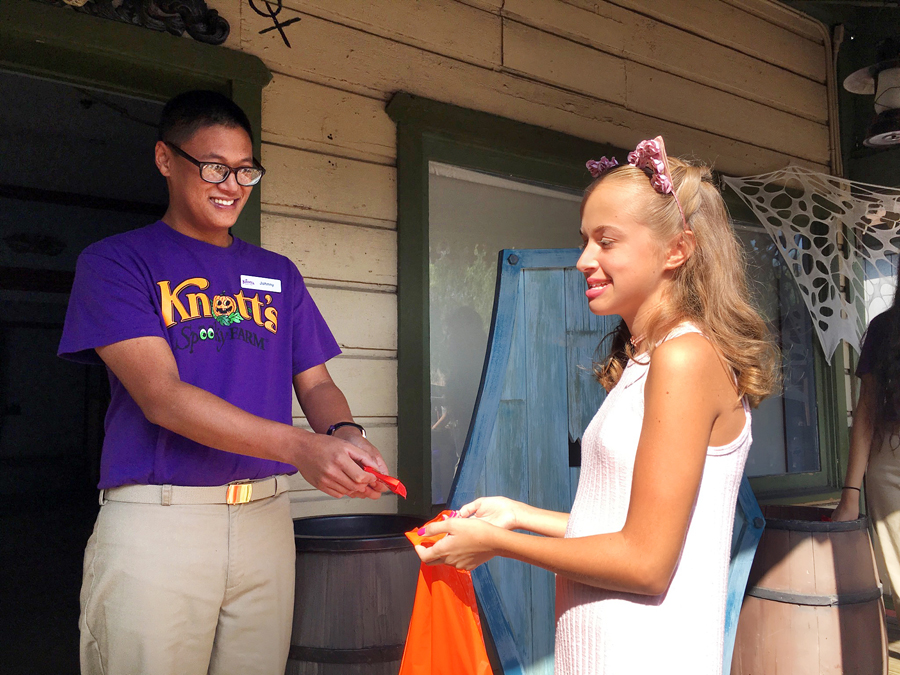 The townspeople were spooky yet friendly and always up for a photo opportunity.  Aren't they adorable?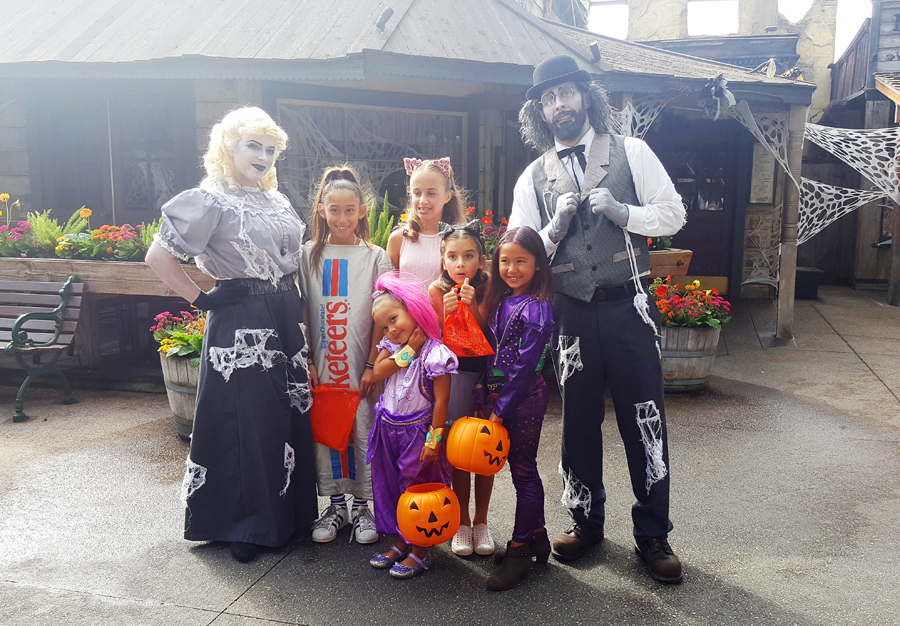 Charlotte and Mika were 'dying' to pose with their new Ghost Town friend.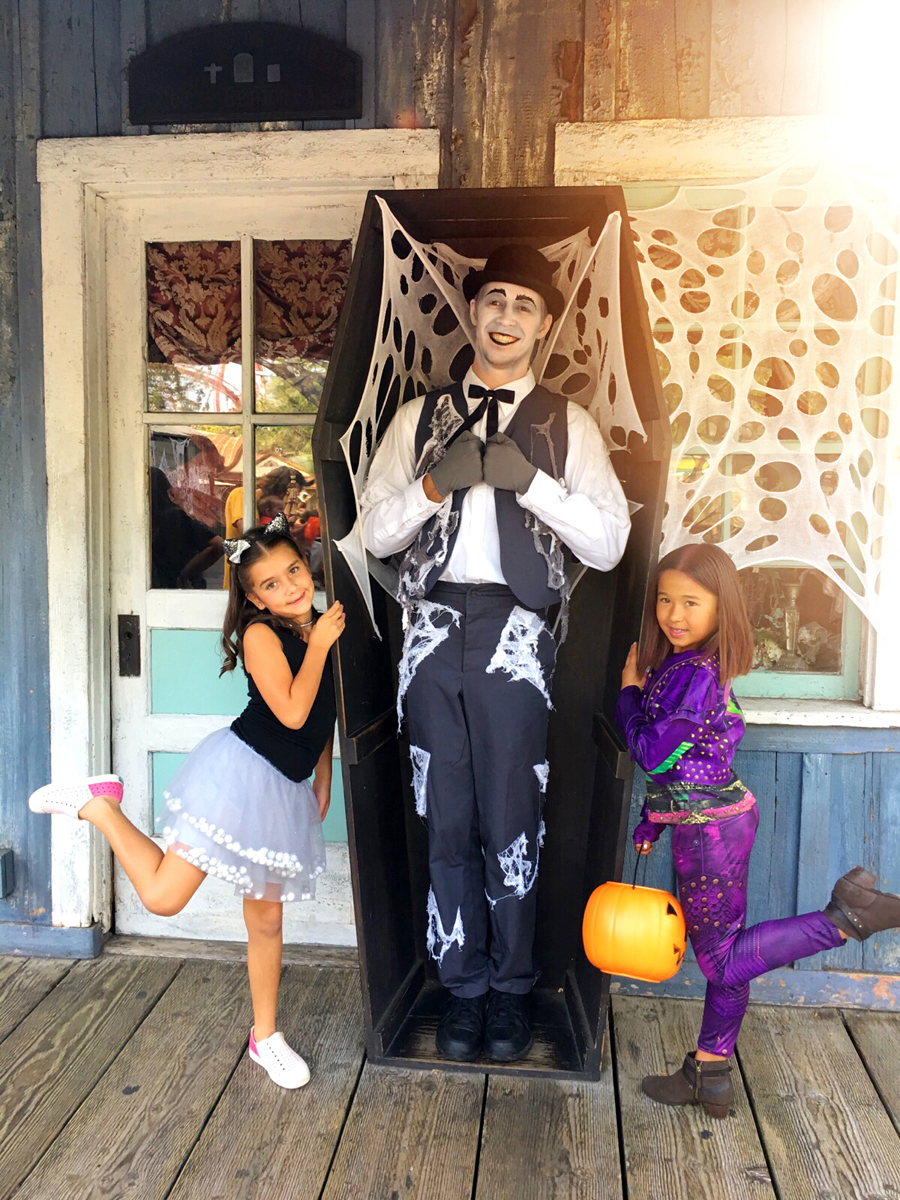 Our favorite part of Ghost Town was meeting STANLEY SCARECROW and entering into his LIVERY STABLE filled with snakes, spiders, rats and the other Creepy Critters of Calico.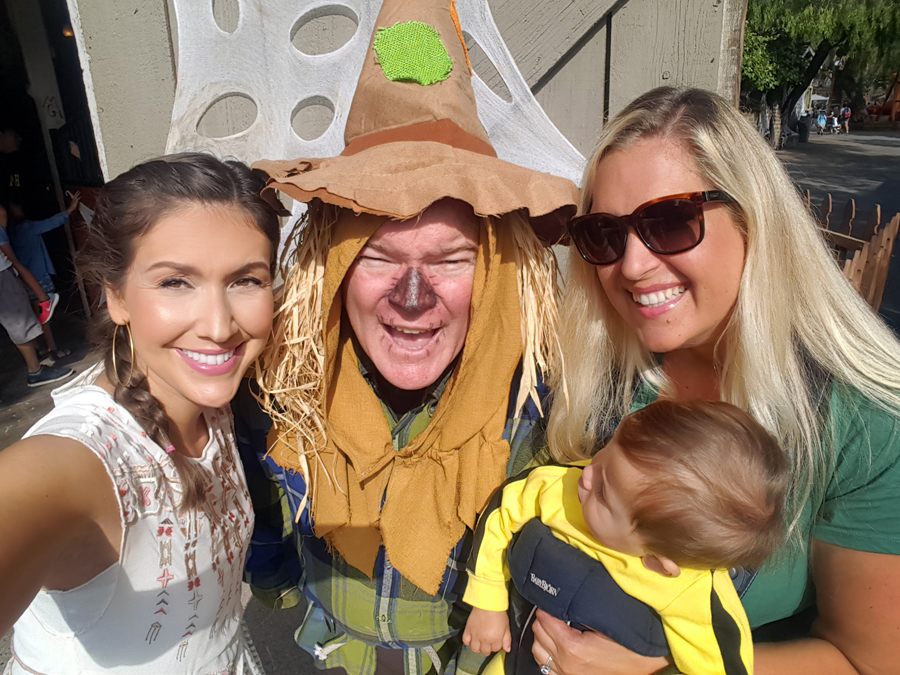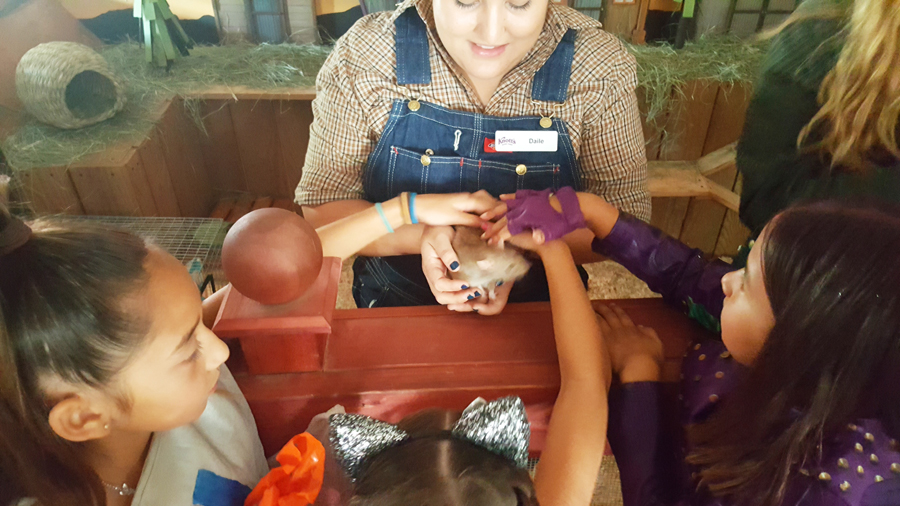 Eeeeeeek!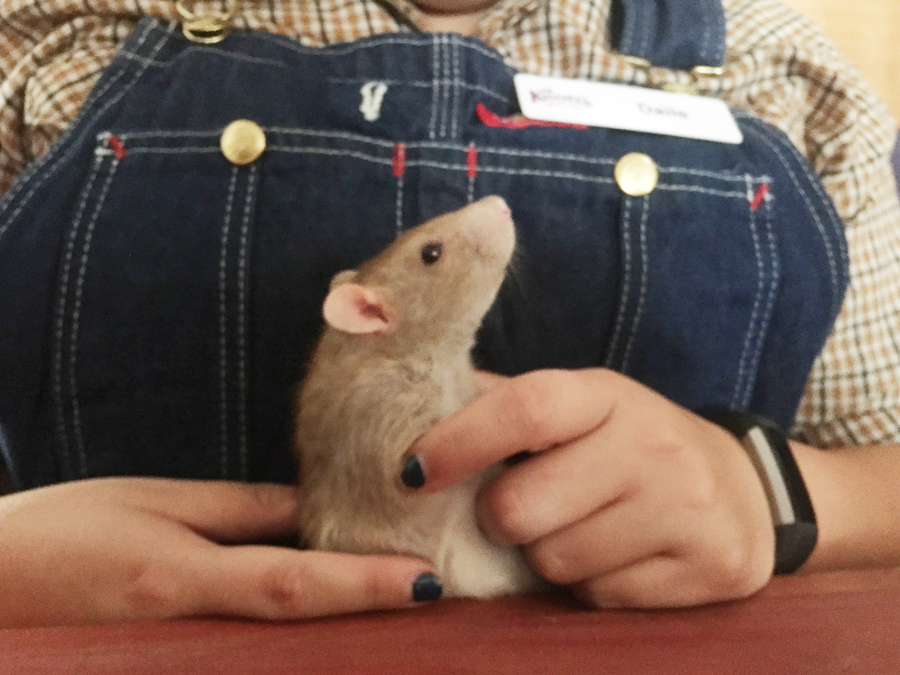 These lovely ladies of Ghost Town are always up for selfies, especially with kittens as cute as these!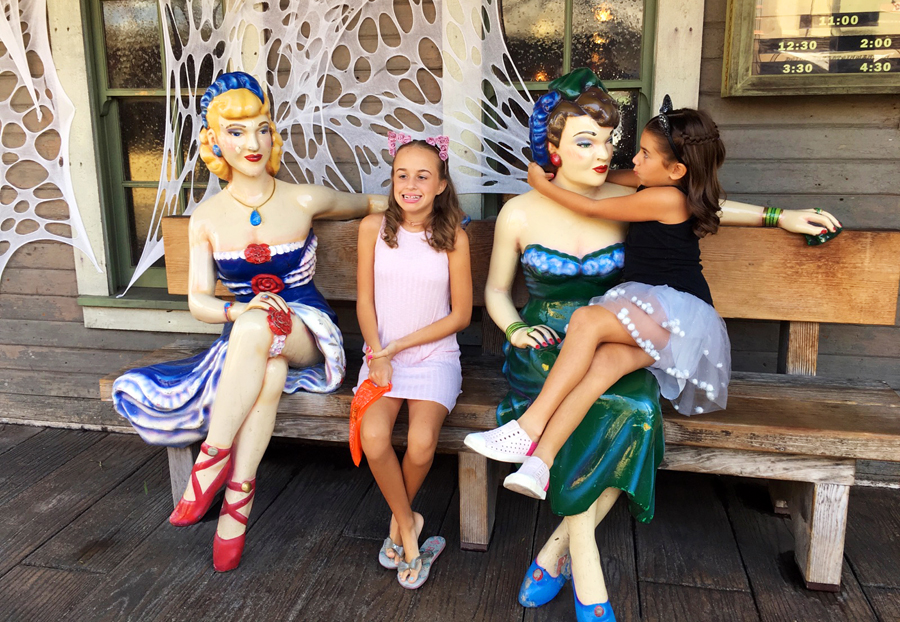 Little Kota aka Bruce Lee loved protecting baby Snoopy with his nunchucks!  Seriously are you dying over the cuteness overload?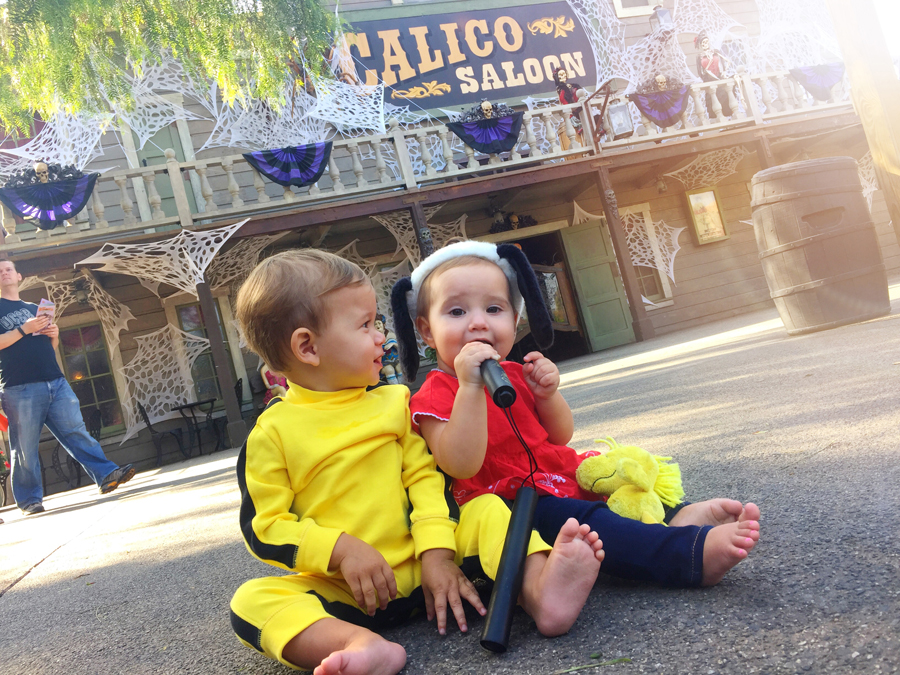 After our treat bags were filled and all the creepy critters at the Livery Stables were cuddled with, we ran straight to the newly converted HALLOWEEN HOOTENANNY formerly the Timber Mountain Logride.  The Halloween Hootenanny is filled for the Halloween season with mysterious creatures from the nearby woods and caverns as well as the Calico Coffin Creeper band and the Town's Green Witch.  The icing on the top is to splash down Skull Mountain through a labyrinth of jack-o-lanterns.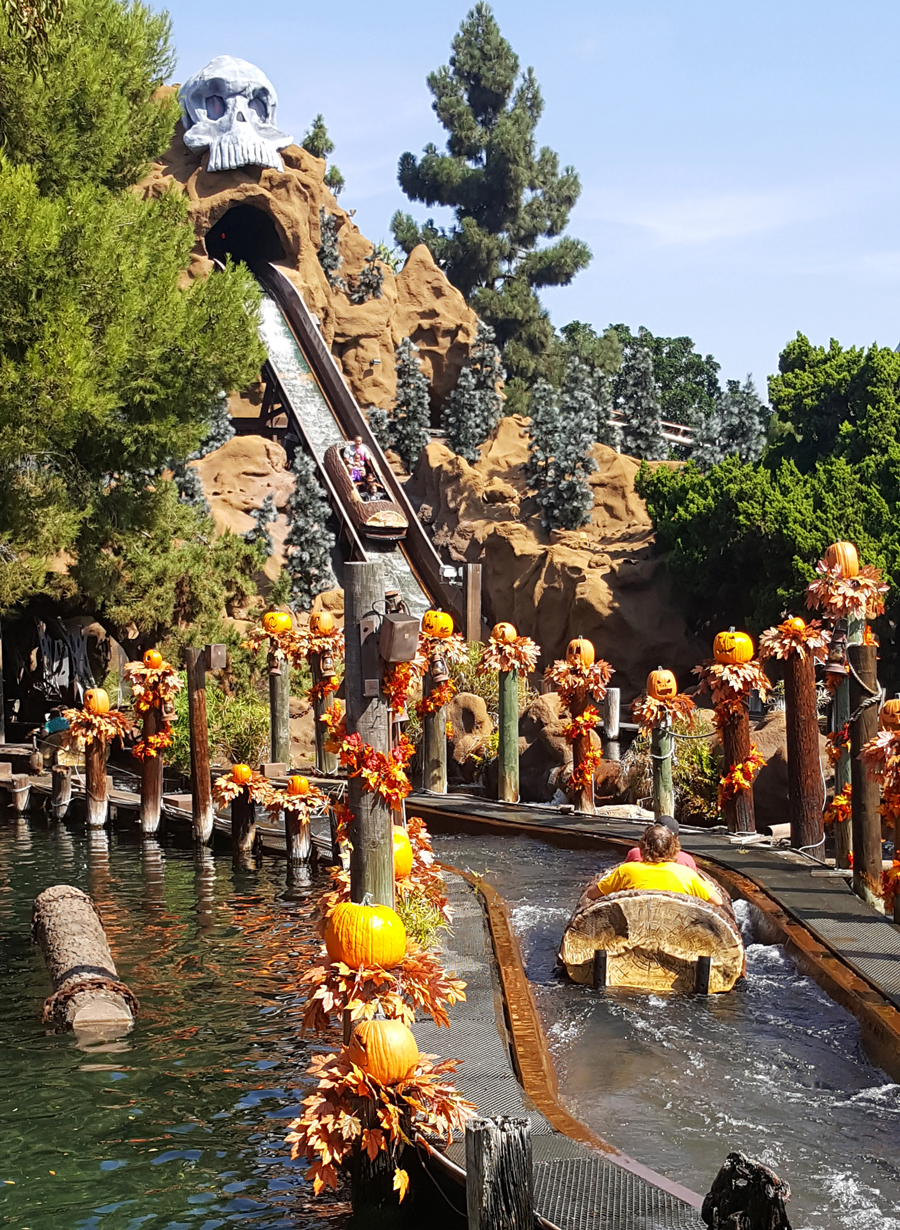 How creepy is the Halloween Hootananny at night!  We will stick to riding in in the daylight please.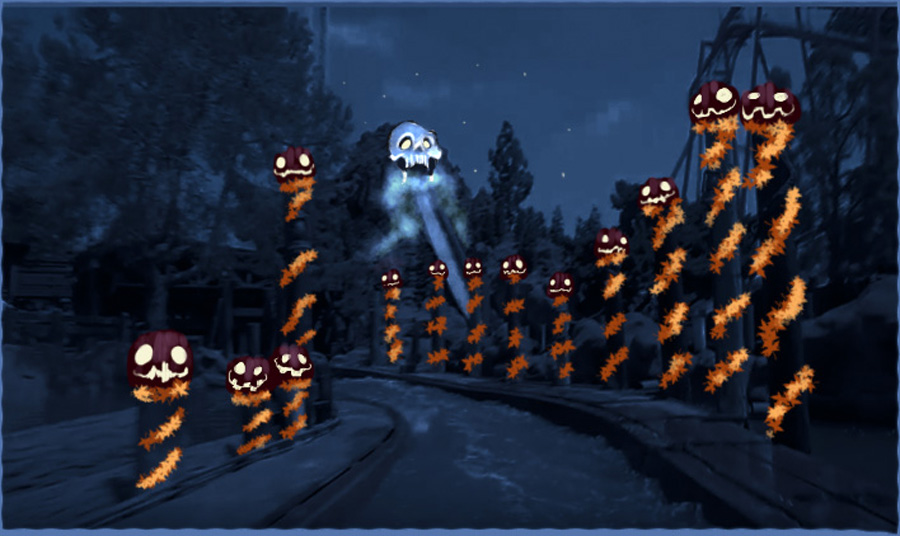 FIESTA VILLAGE is always a crowd pleaser.  Especially when it is decorated for the Dia de Los Muertos Celebration!  There are some fun activities for the kids including a bracelet making station (for $4), face painting and interactive wall displays.  We also loved all the cute hair accessories and goodies you can purchase from the venders in the area.  Photo ops are around every corner!  (Check out our link at the bottom of this post to see highlights of our day and the exhibits.)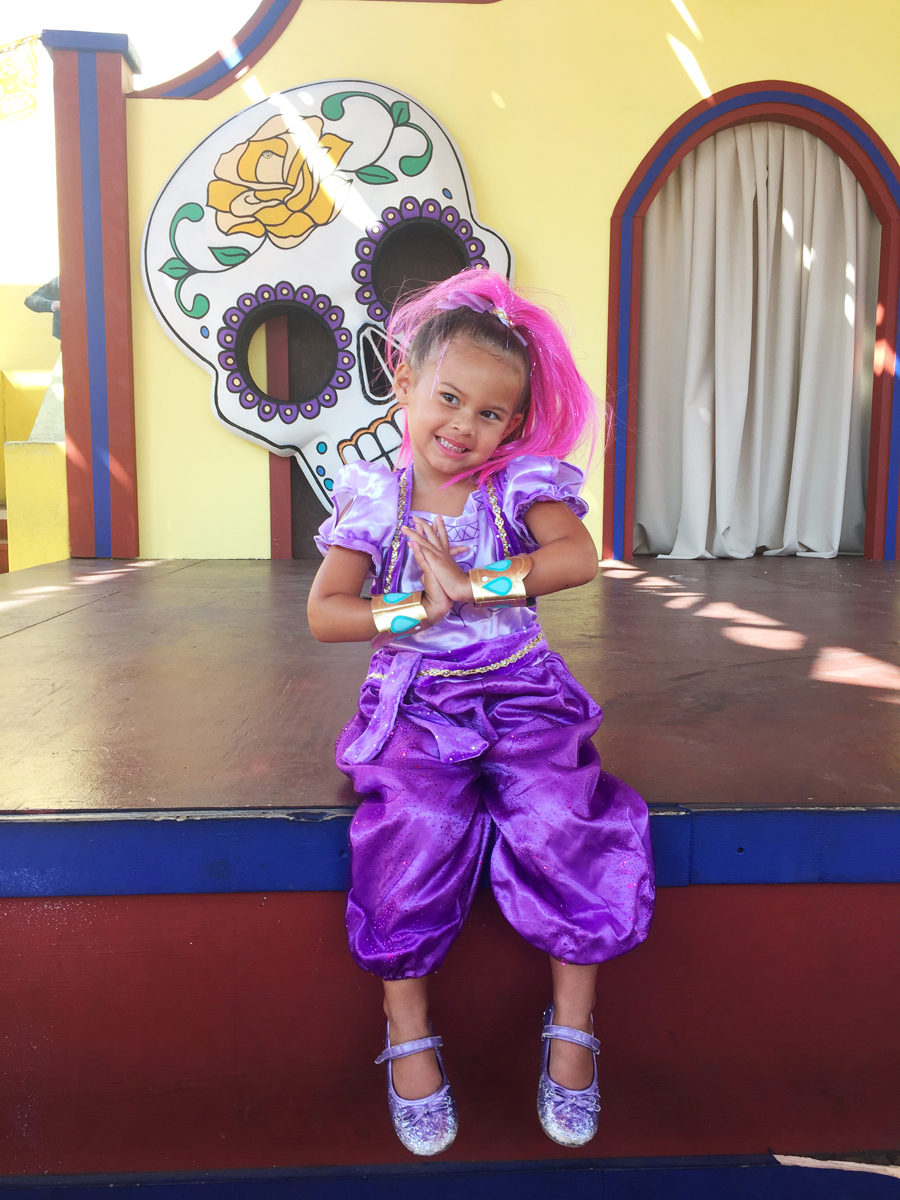 The HB Littles can never pass up an opportunity or 2 to ride the swings at Fiesta Village.  Isn't the artwork gorgeous though???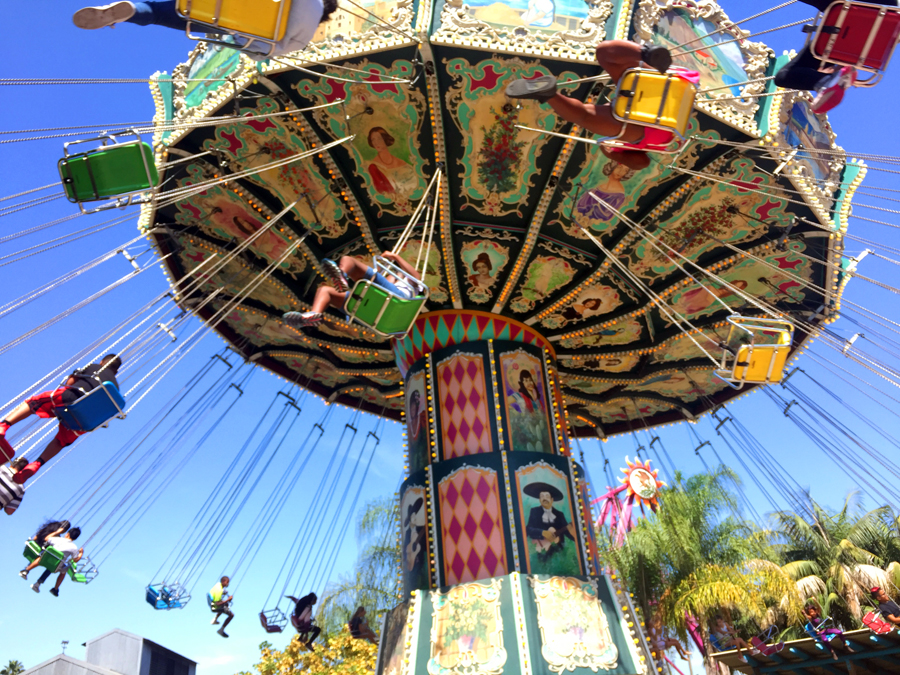 We hit up several more rides this day and created so many happy memories together as families.  
For Maddy the highlight of her day was finally getting brave enough to ride the GHOSTRIDER.  Perfect for our fun filled Halloween themed day.  Love this proud pic of her and her dad after her brave ride.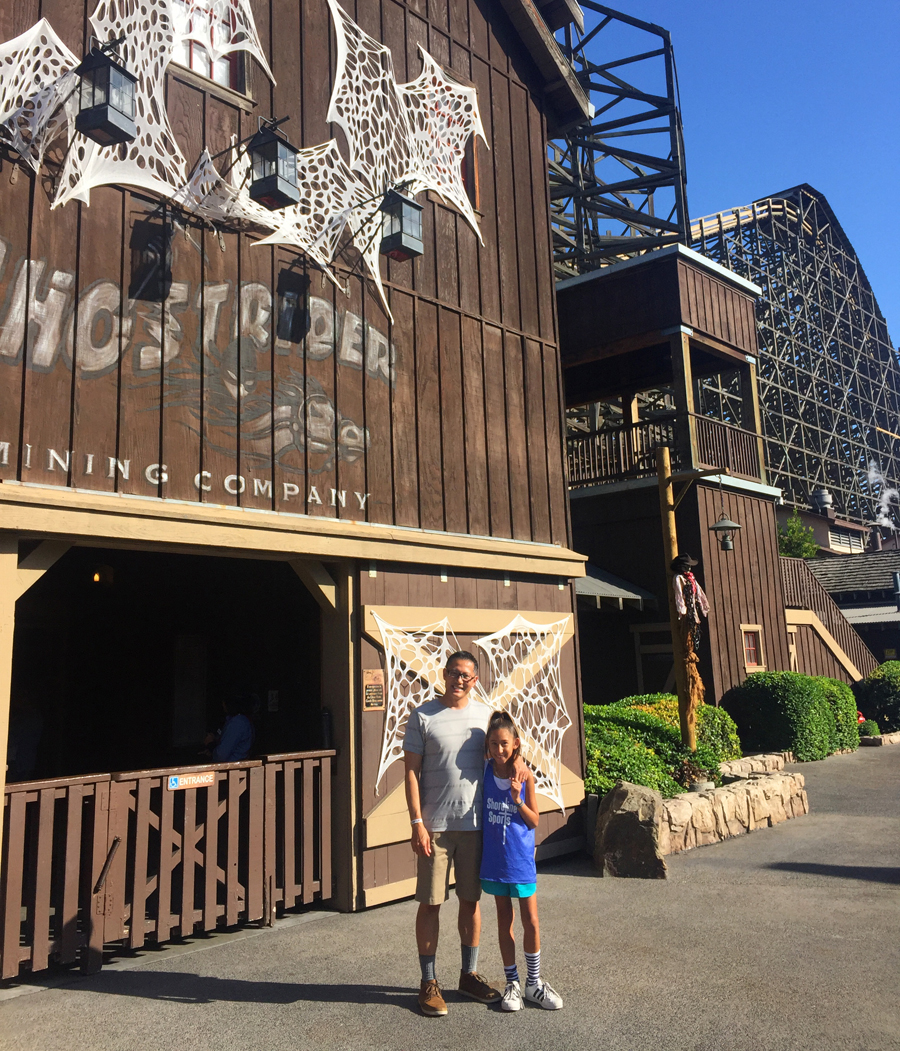 CAMP SNOOPY is always fun!  But even more so during Knott's Spooky Farm day!  At the Camp Snoopy Theater you can enjoy singing and dancing with the Peanuts Gang in The Monsters Are Coming, Charlie Brown show as well as a costume contest for all your littles to participate in!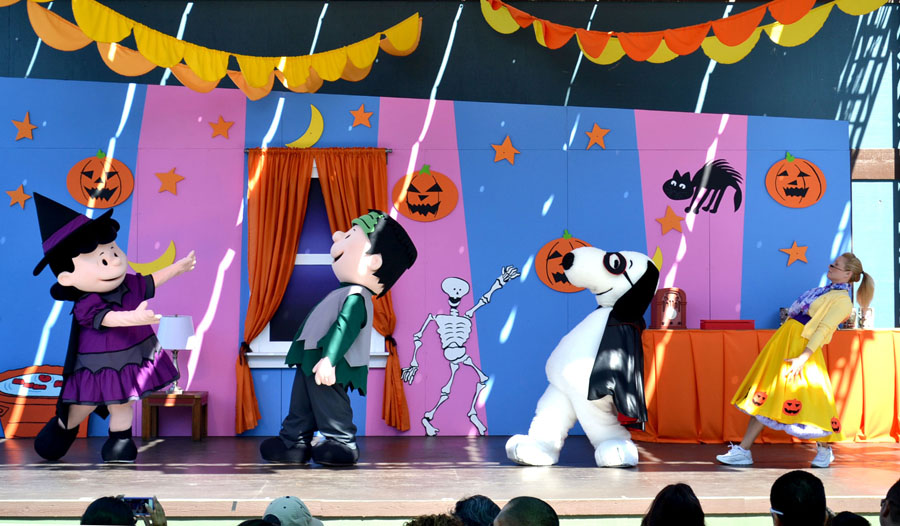 Lastly at the CALICO TOWN SQUARE you can decorate your own pumpkins (for a nominal fee).  Too bad we already have the cutest pumpkins in the patch.  (: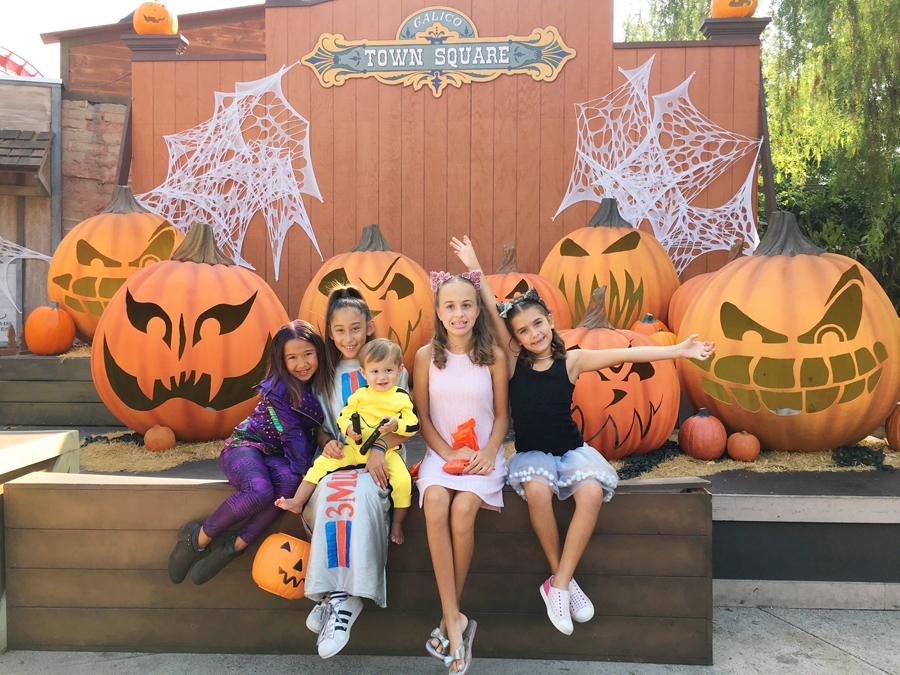 To Check out some video highlights of our day click HERE.
TIPS :
-We recommend arriving at 9am for opening to avoid the heat and crowds.
-We LOVED having FAST LANE PASSES.   On crowded days you can walk right onto the rides.  For $60/person you can purchase them HERE.
-Have your kids wear their costumes but bring a change of clothes.  It gets hot in the afternoon so it was nice to have a cool outfit to change into and keep the Halloween costumes clean for another day.
-You can bring your own treat bucket, but Knott's also provides little bags for candy.
For more information on Knott's Spooky Farm including directions and ticket information head to thier webpage HERE.
THANK YOU KNOTT'S for hosting our families!  We had the best day and the memories will last a lifetime.
XOXO
SaveSave
SaveSave
SaveSave
SaveSave
SaveSave
SaveSave
SaveSave
SaveSave
SaveSave
SaveSave
SaveSave
SaveSave
SaveSave
SaveSave
SaveSave