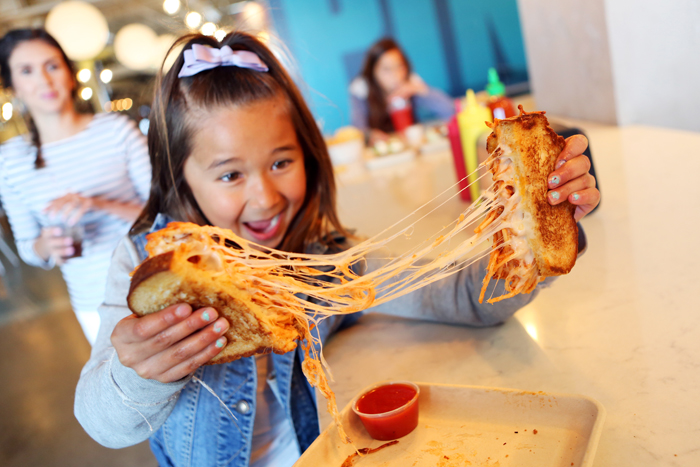 BURNT CRUMBS PACIFIC CITY
Jamie and I wanted to surprise our girls today and take them out of school for a surprise lunch date.  We thought what could be more fun than showing them the ways of the famous Spaghetti Sandwich at Burnt Crumbs Pacific City! We love this place and have been here for a few girls nights.  Its such a fun relaxed environment and really the perfect place for families.  Our cuties skipped their way through Pacific City and entered Lot 579 where so much goodness resides.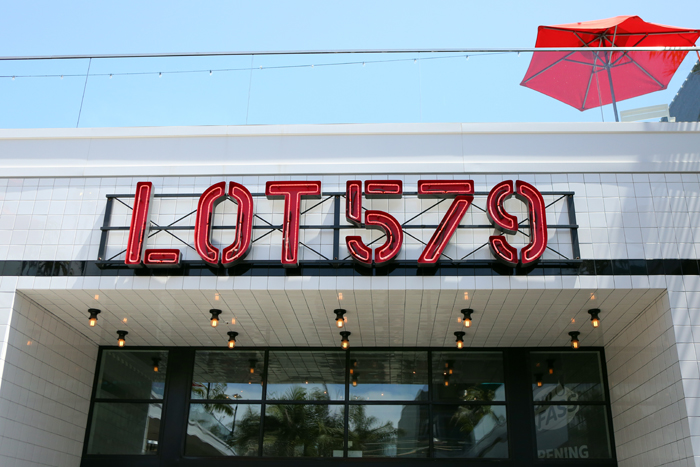 Burnt Crumbs has a simple straight forward MENU filled with their famous mouth-watering sandwiches, toasts, sides and more.  We couldn't wait to sink our teeth into so many things! We decided to order a few of the local favs including the super famous Spaghetti Grilled Cheese Sandwich for the girls.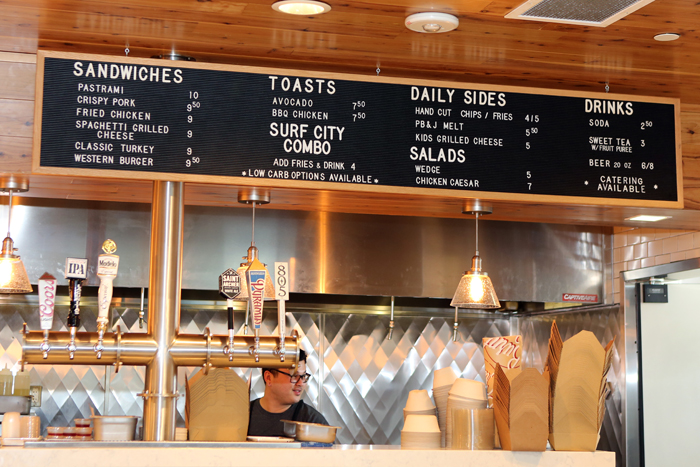 After ordering our thirsty little mermaids ran straight for the Pepsi Flavor Shot machine.  This was the highlight of their day!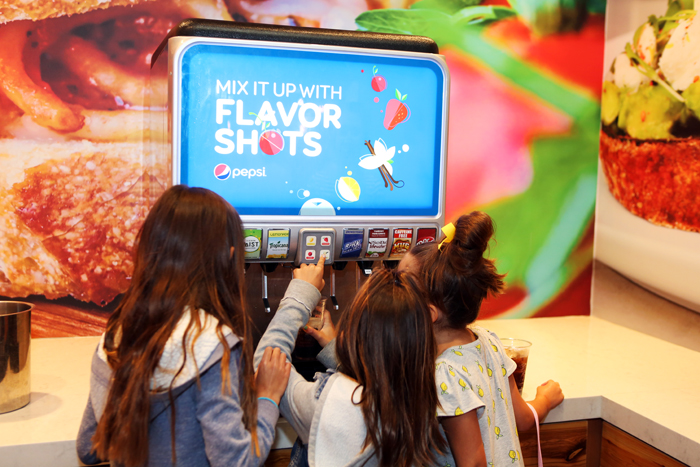 Maddy chose  lemonade with a shot of Strawberry while Mika and Lottie went straight for the Rootbeer with Vanilla Shots trying to get that Rootbeer Float taste.  I snuck a sip of Mikas and accidentally drank it all.  So good!  Seriously try this mixture!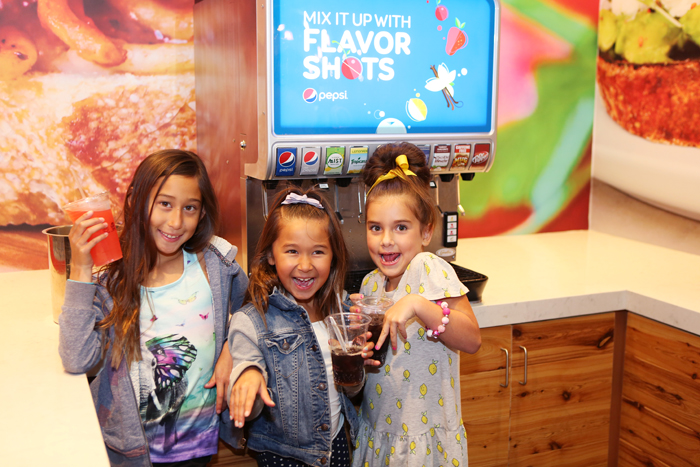 We had so much fun waiting for our food playing ping pong.  The little girls always make taking pictures so much more fun. Check out these little cheerleaders rooting for thier ping pong players.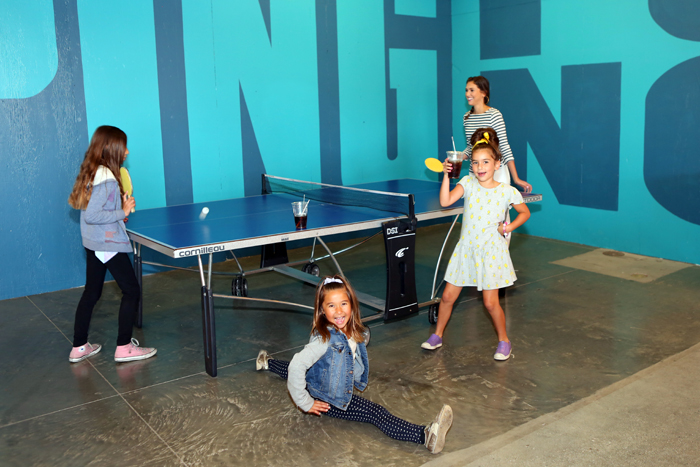 And here are the goods…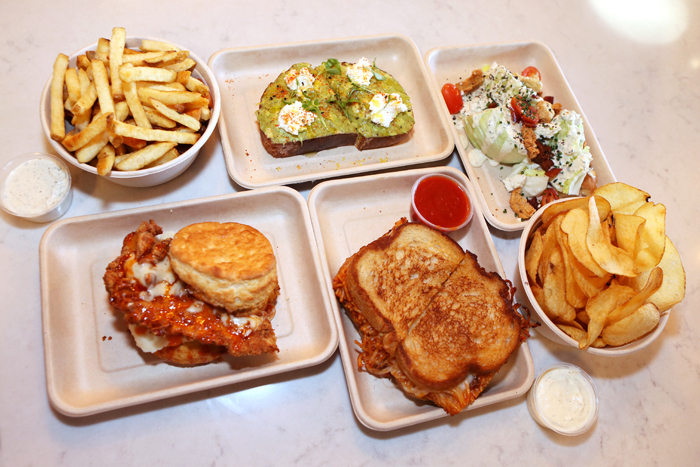 All of us girls had a hard time waiting for the pictures to be taken of the food…. there were definitely many hands in those fries and crispy chips in between shots!
The Avocado Toast is is always a must when we are visiting Burnt Crumbs, you can never go wrong with avocado and ricotta! We love to share this toasty meal as an appetizer. EAT SMART- always bring a friend so you can sample more!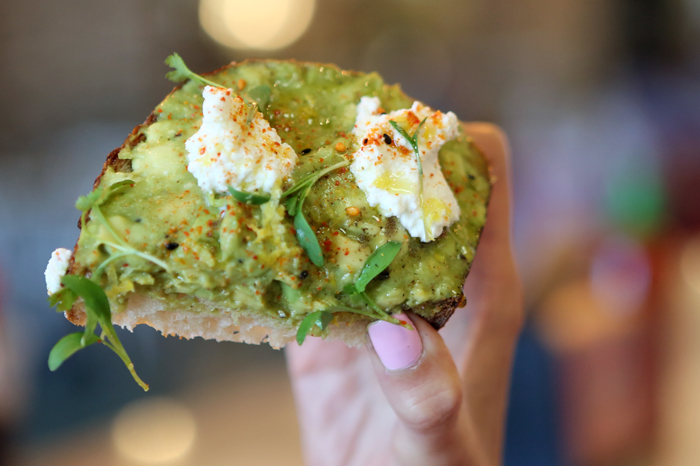 Check out this bad boy! Southern Fried Chicken with a garlic potato spread drizzled in gravy and sriracha honey all wrapped up in a delicious biscuit!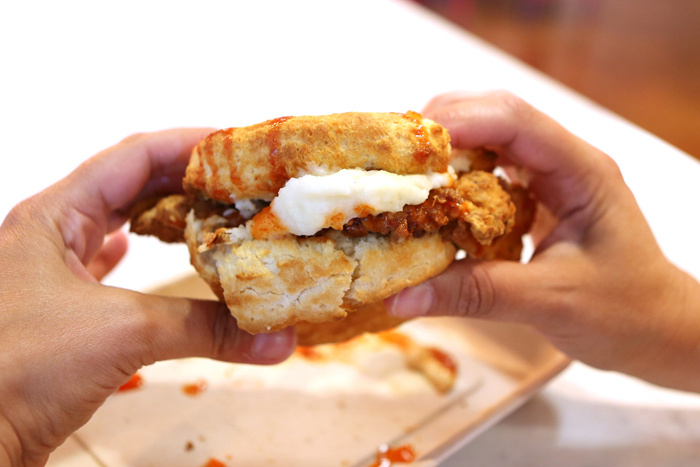 The HB littles all had their hearts set on the Spaghetti Grilled Cheese sandwich. Jamie must have as well since she took a bite of each one!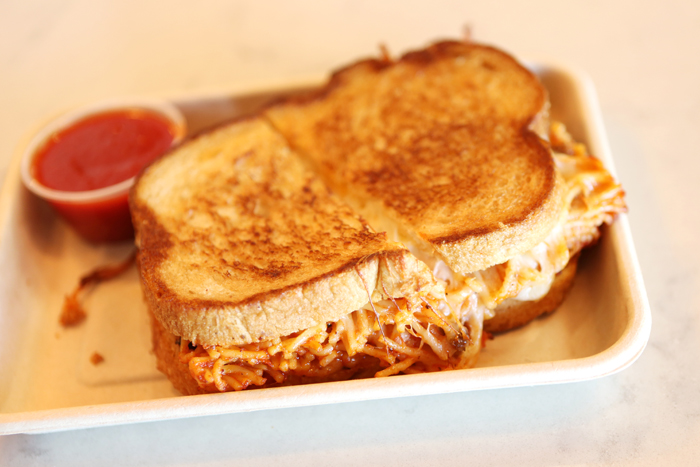 The girls loved to do the infamous slow pull of this amazing Spaghetti creation, and yes, a Spaghetti Grilled Cheese tastes just as epic as it sounds!  They especially enjoyed dipping these yummy sandwiches in warm marinara sauce. We were thrilled watching our girls devour their lunch. These were a big hit for our sometimes picky eaters!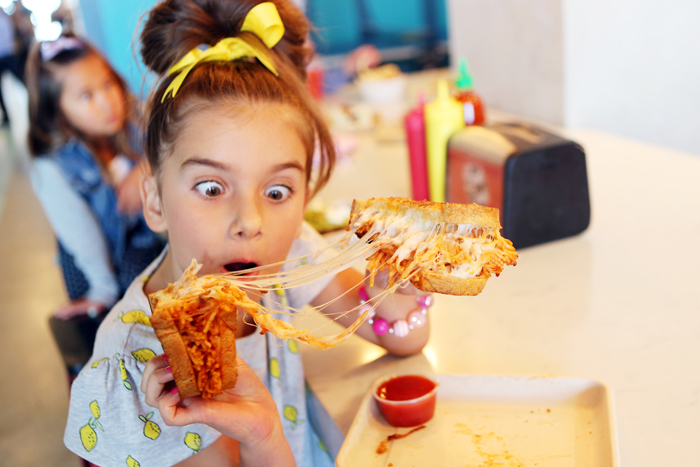 Of course we had to try a little crunch smothering in creamy Garlic Aoili sauce, there are no words.  Thank you Burnt Crumbs for bringing these back on the menu!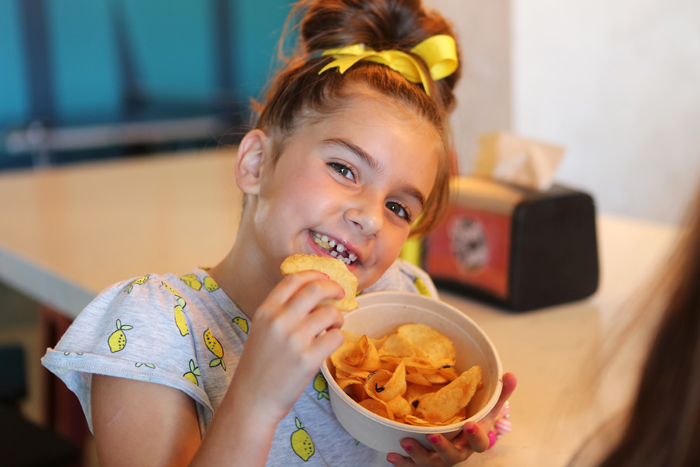 The french fry queen!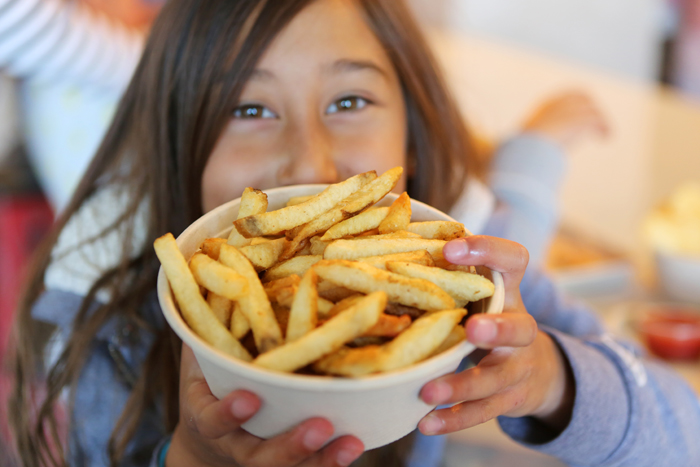 You've gotta try the Mango Sweet Tea, it pairs perfectly with any menu item!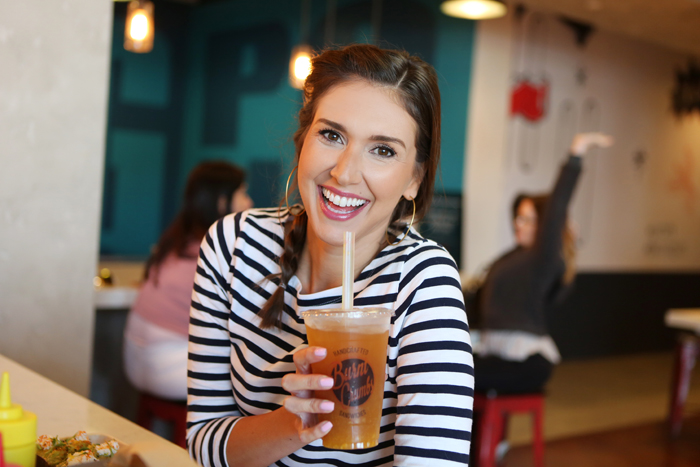 This Wedge Salad was made of iceberg lettuce and grape tomatoes smothered in deliciously naughty Buttermilk Dressing then topped with buttery croutons, Gorgonzola Cheese, bacon and chives.  It's as good as it looks.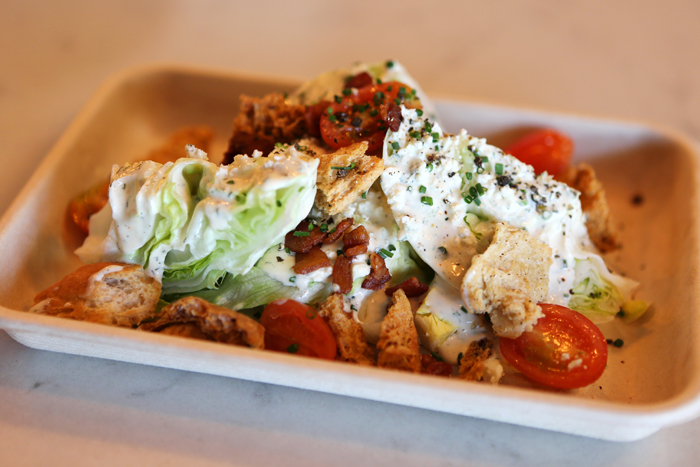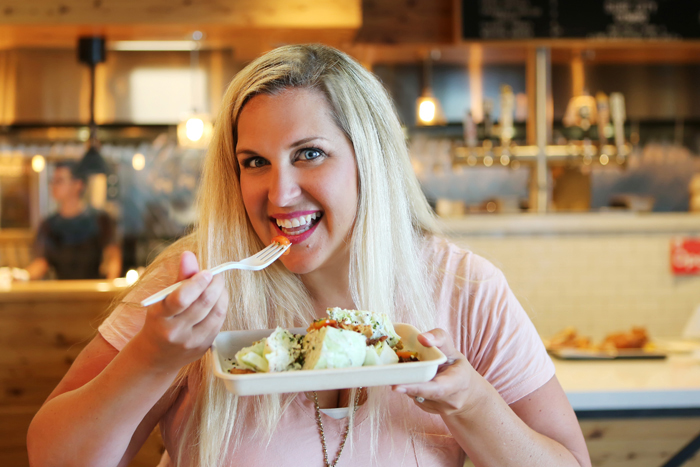 The environment at Burnt Crumbs is perfect for families.  The kids can be free to be themselves and there are so many fun seating options to choose from.  We will definitely be coming back with the rest of our family members!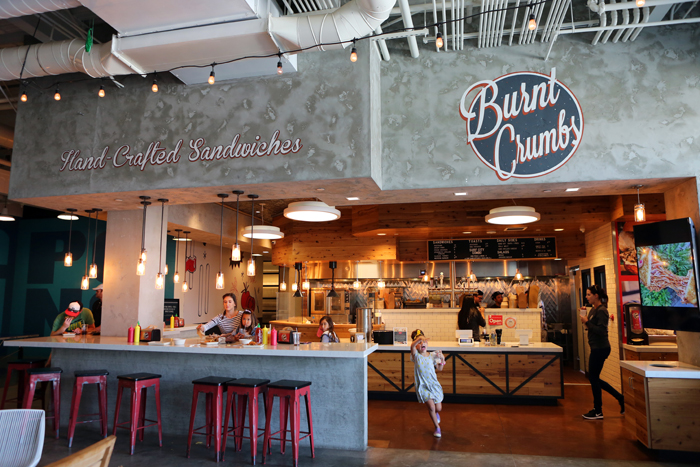 When you are finished eating you can wander the rest of Lot 579 and choose from so many fun dessert places.  You must take your families and when you do, be sure to say hi from us and order the Spaghetti Sandwich!  Have fun!
XO, Michelle
We are a participant in the Amazon Services LLC Associates Program, an affiliate advertising program designed to provide a means for us to earn fees by linking to Amazon.com and affiliated sites.