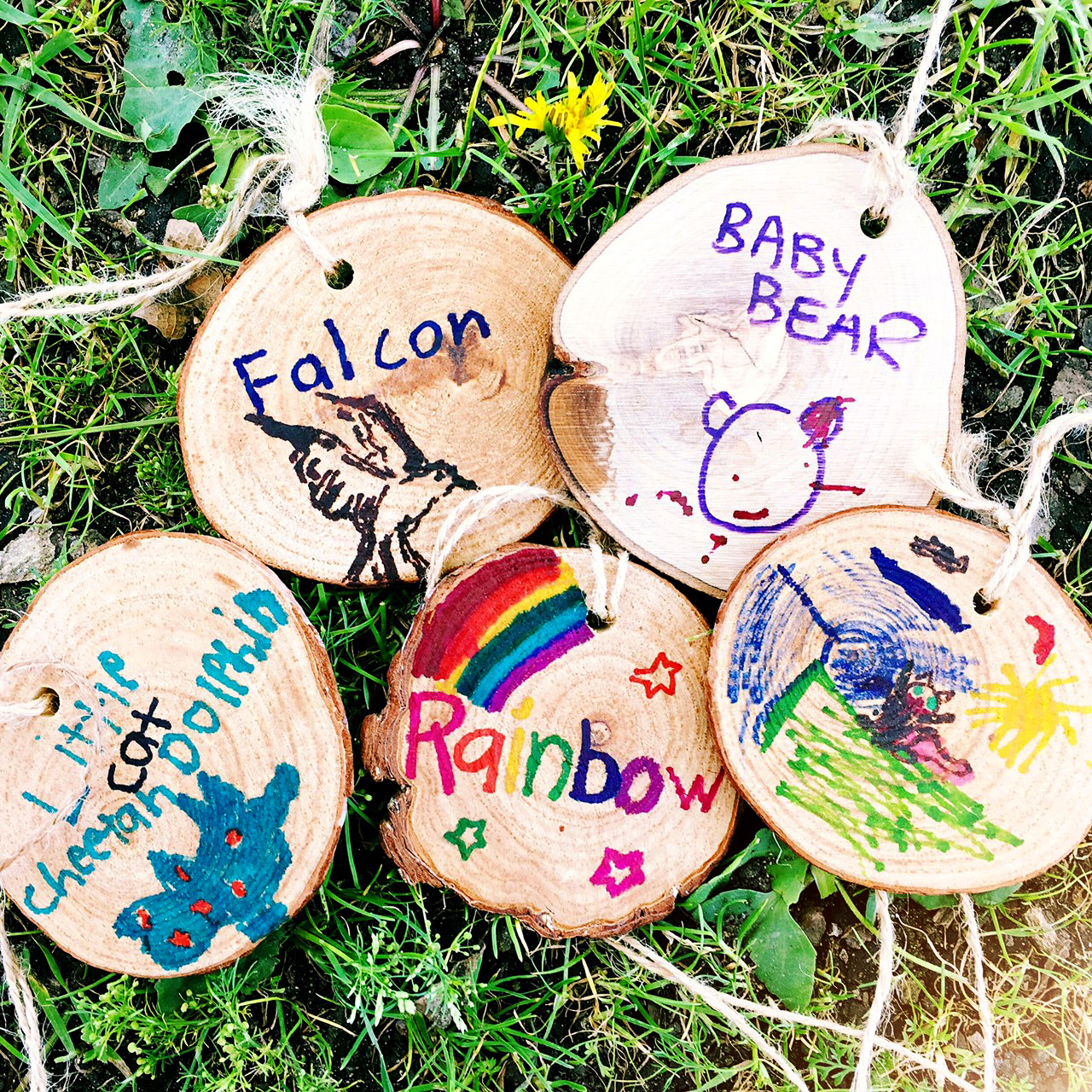 When I was little I was able to take a bus into the mountains and go away to summer camp.  I remember the camp songs, the smell of the mountains, the tree cookies we wore, the crafts, games and the beautiful nature all around us.  Experiencing Inside the Outdoors Summer Camp with my girls brought back so many fun memories.  I'm so glad they got to see what it would be like to head to camp for a day.  Inside the Outdoors Summer camp is right in Huntington Beach's backyard right now at the Shipley Nature Center. This camp is so organized, we got to participate in so many activities in just a short amount of time.  The counselors made the girls feel so important and special.  They were always smiling and making sure everyone was happy and taken care of as well as being so knowledgeable about nature.  I'm excited to share some of the highlights of our day at this great camp.  Thank you Inside the Outdoors Summer Camp for hosting our girls.
When we arrived the kids were greeted by counselors with names like Polar Bear and Road Runner.  Their names were all labeled on little tree cookies around their necks.  Immediately they bonded with the kids and helped them all envision and create their own tree cookies with their own camp names.  Maddy became "Falcon" little Lucy was now "Baby Bear," Kate was "Rainbow," Charlotte "Chipmunk" and Mika "Little Cat Cheetah Dolphin" (she had to make it easy for the counselors to remember her name haha).  This really set the mood for a day at camp and the fun began!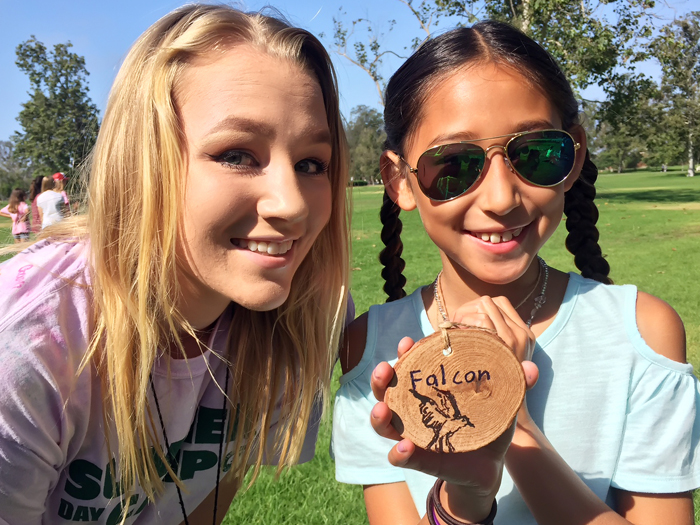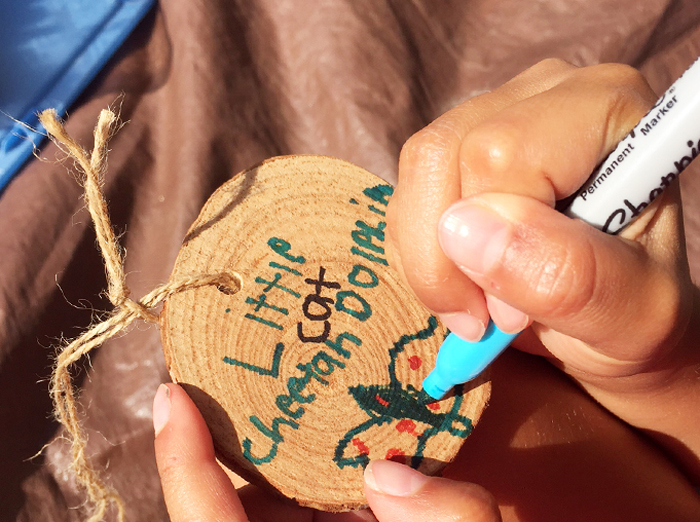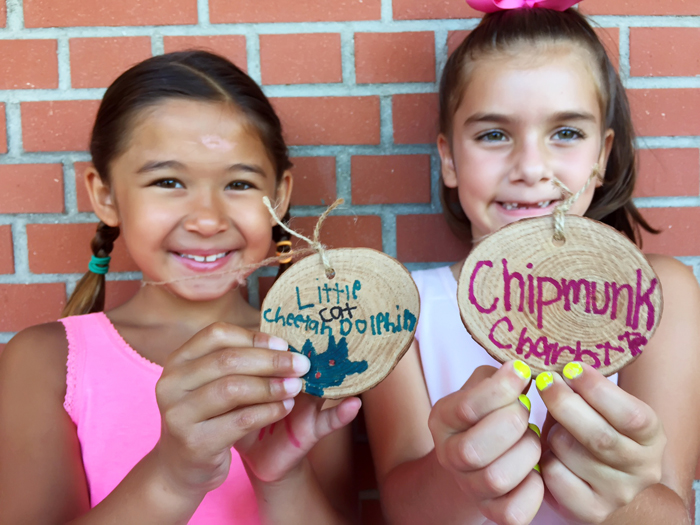 Here are some of the camp counselors.  We loved them and were so sad to leave at the end of the day!  All the counselors at Inside the Outdoors are selected and interviewed just as a teacher would be.  They are all background checked and trained in First Aid and CPR and have all worked with kids for years.  They were amazing!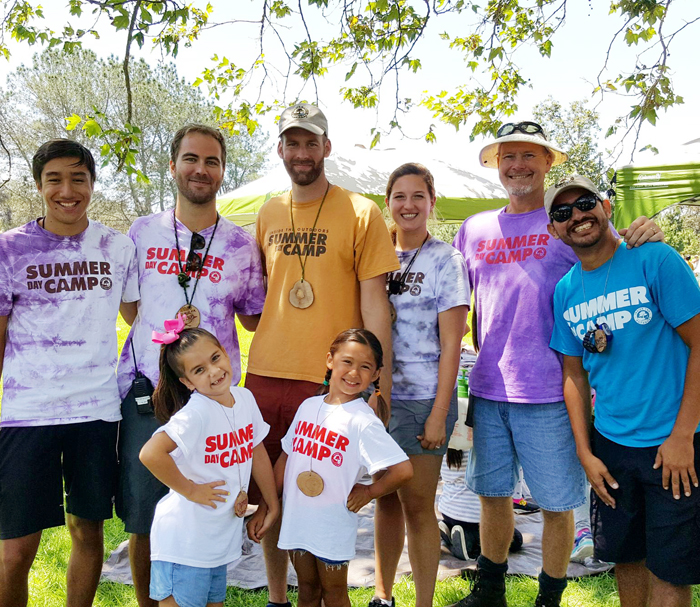 We headed to the camp amphitheater and learned some camp songs from some enthusiatic counselors…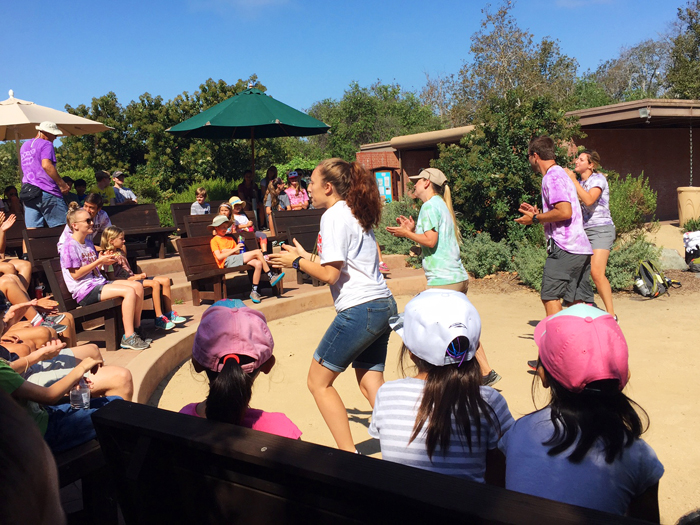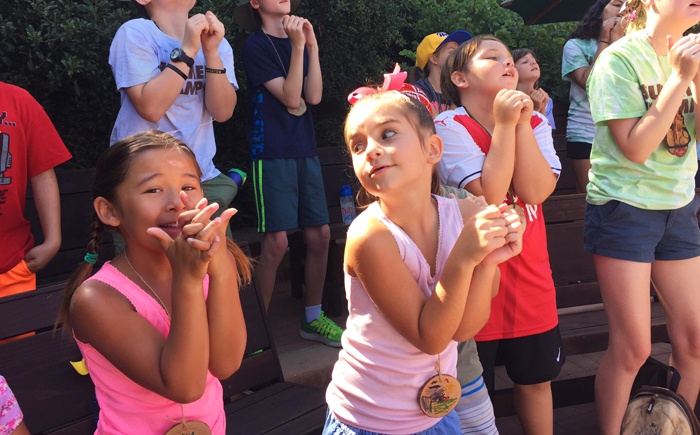 We watched some hilarious skits…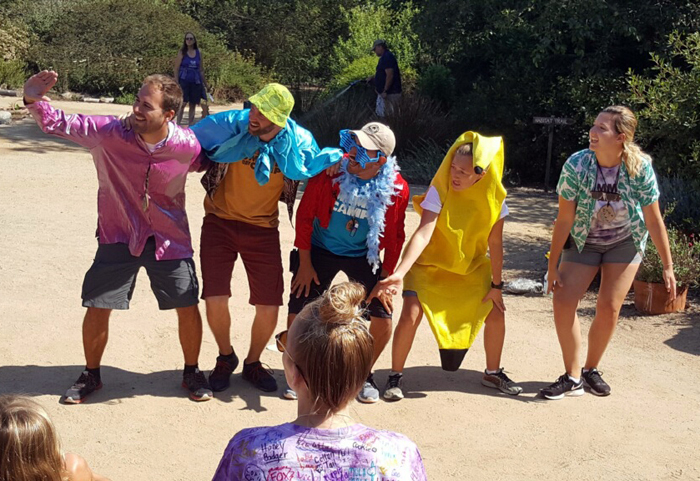 Then headed to a beautiful grassy field to play some games.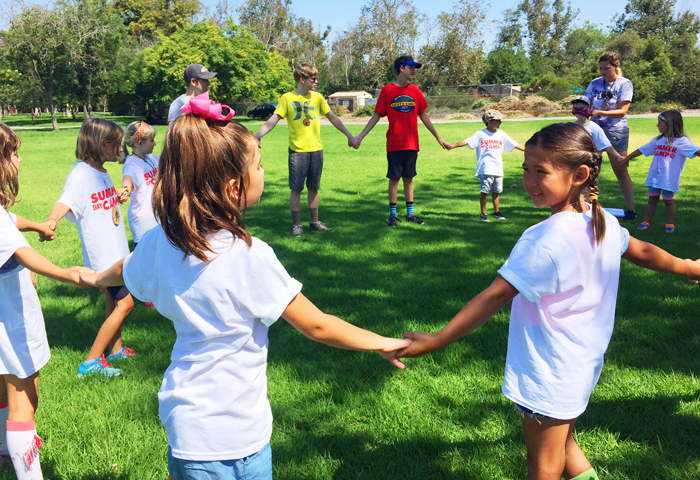 In this game Lottie was a snake trying to catch mice using her sonar skills.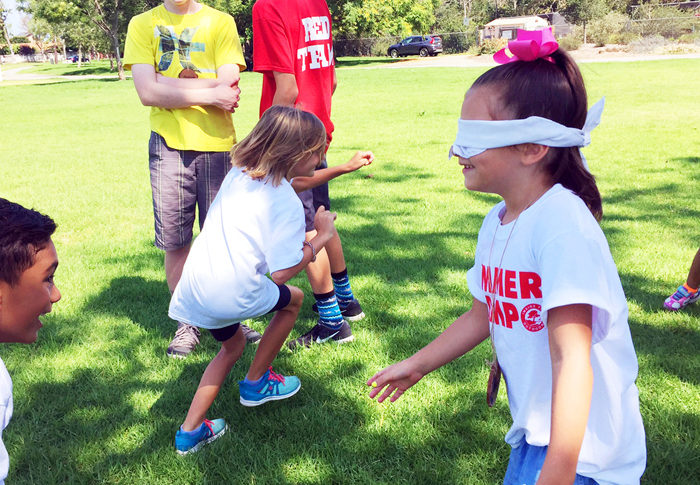 The camp hosted arts and crafts.  These girls made the cutest turtles.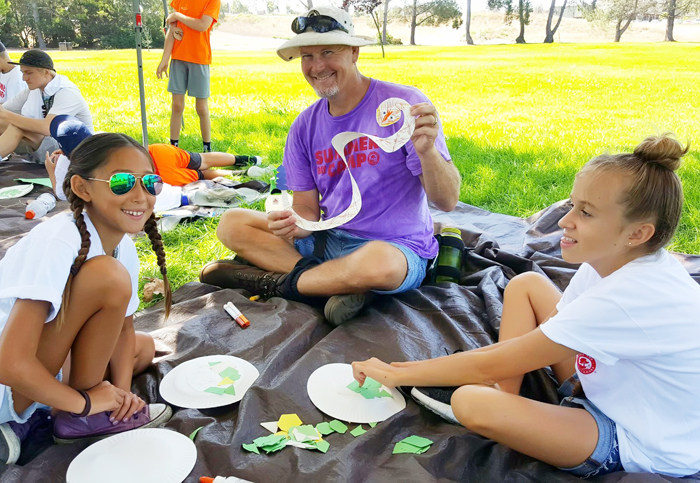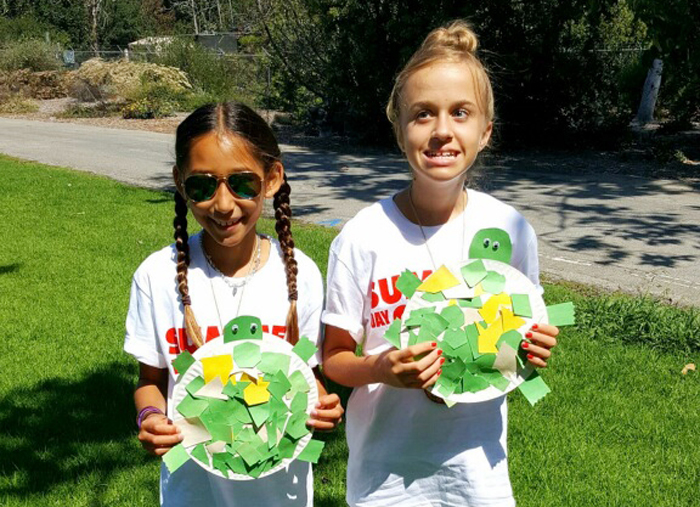 These fiesty little sisters opted to make some fierce cobra snakes.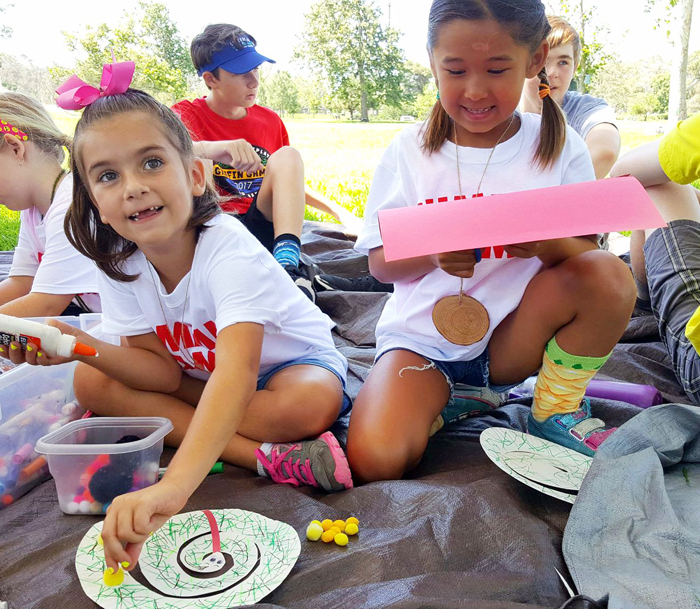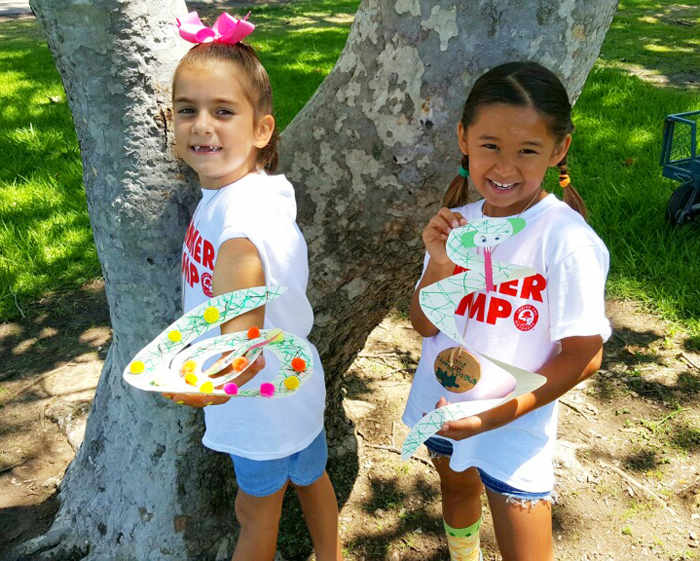 Lunch was under the shade of the trees or a popup tent.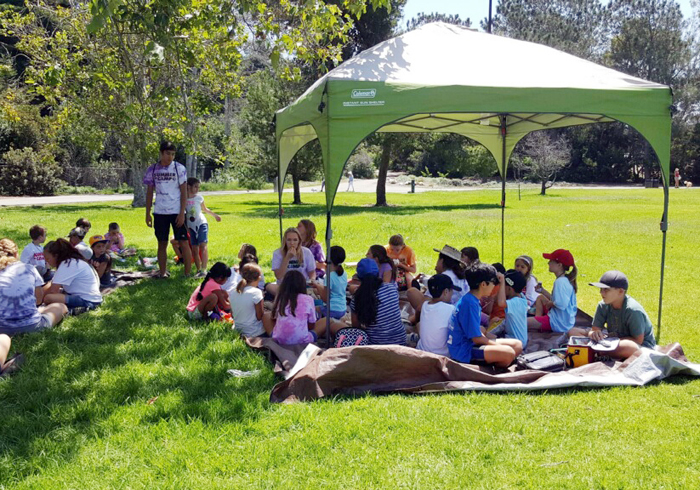 After lunch the kids organize the trash and attempt to make the recycling and compost bins heavier than the trash they produce.  If they win they get to spray the camp counselors with water guns.  Such a fun lesson with an even more fun incentive!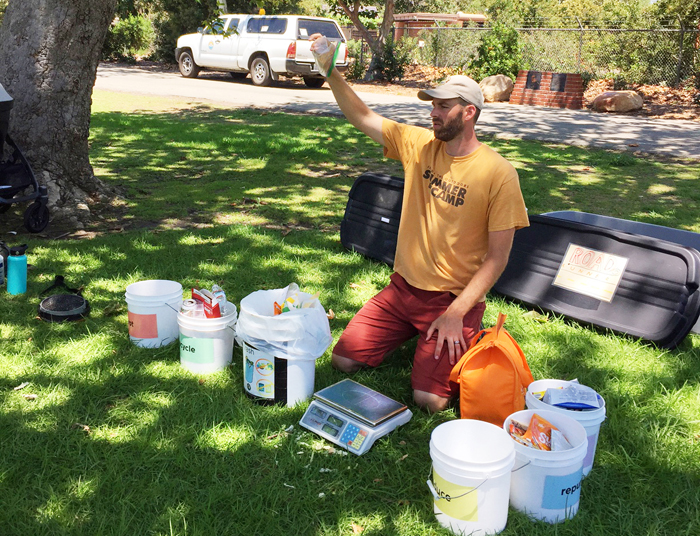 Next the counselors helped and taught the girls to make the sweetest friendship bracelets.  Isn't little Lucys to adorable on her cute little wrist?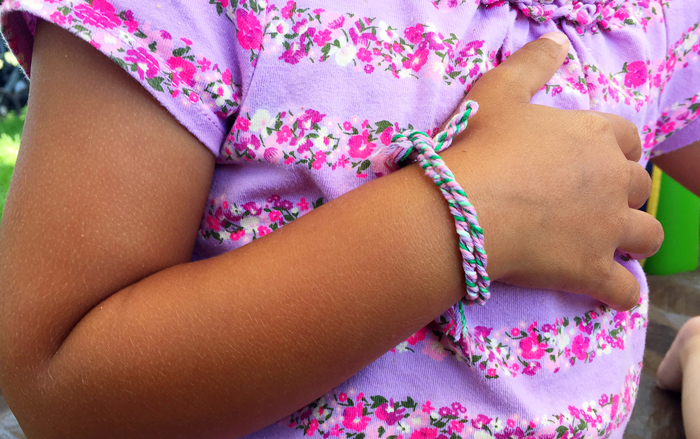 Charlotte and Mika braided up some matching friendship bracelets and had the best time.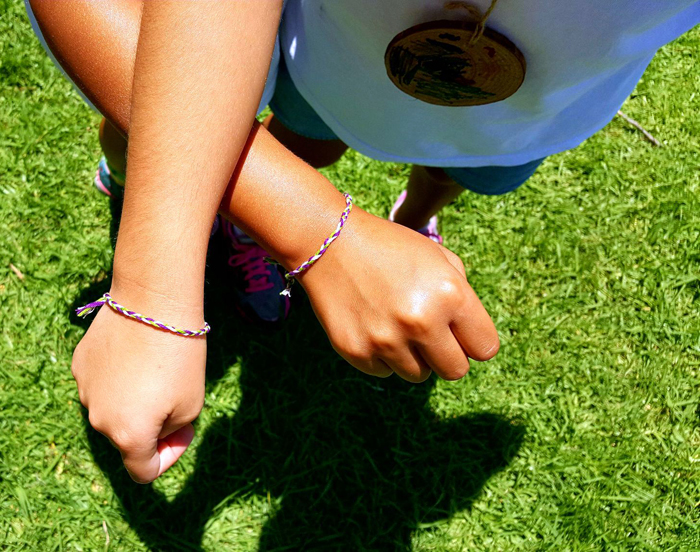 The most exciting activity according to our girls was tie dying their camp shirts.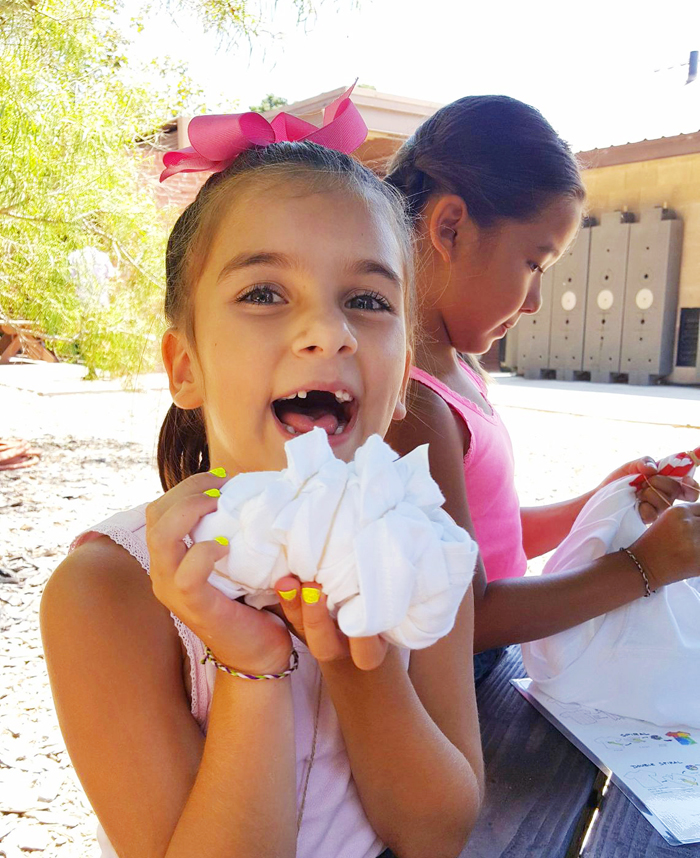 Tie Dying is a little girls summer dream.  The counselors made it so easy with diagrams, the girls were able to design and create the shirts all on their own.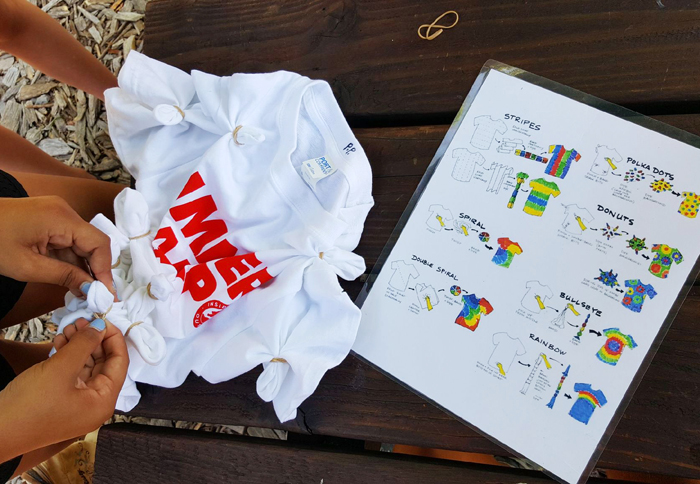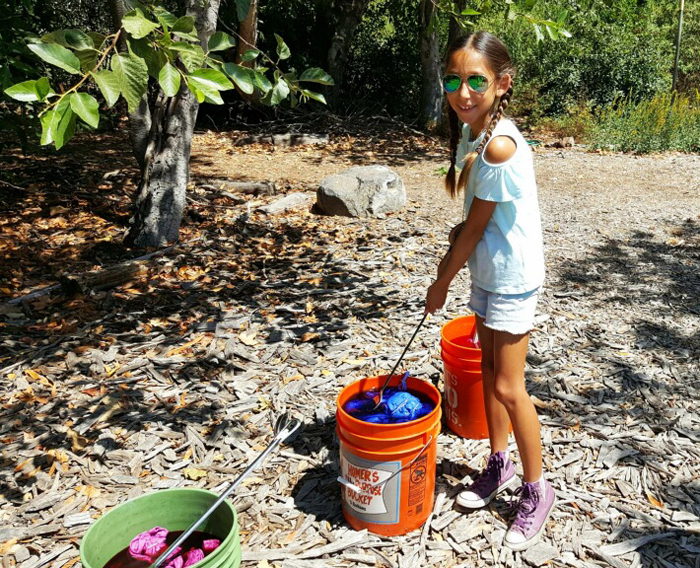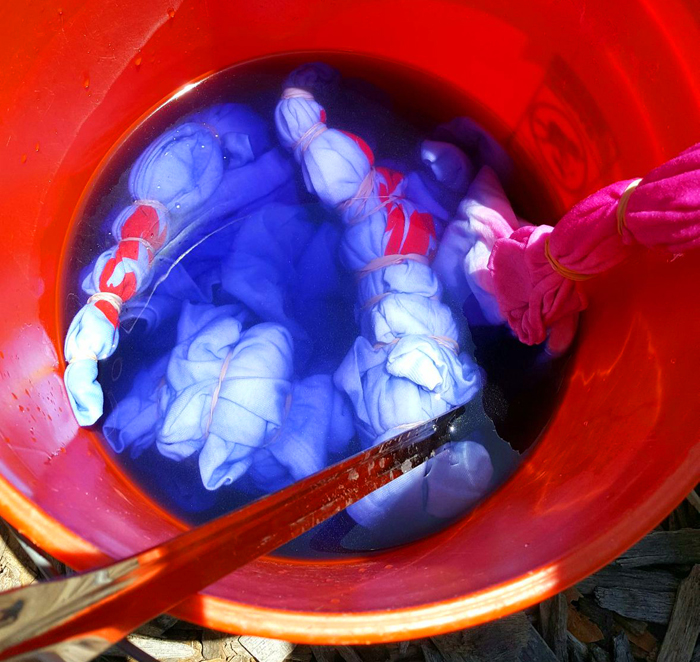 Aren't these shirts amazing???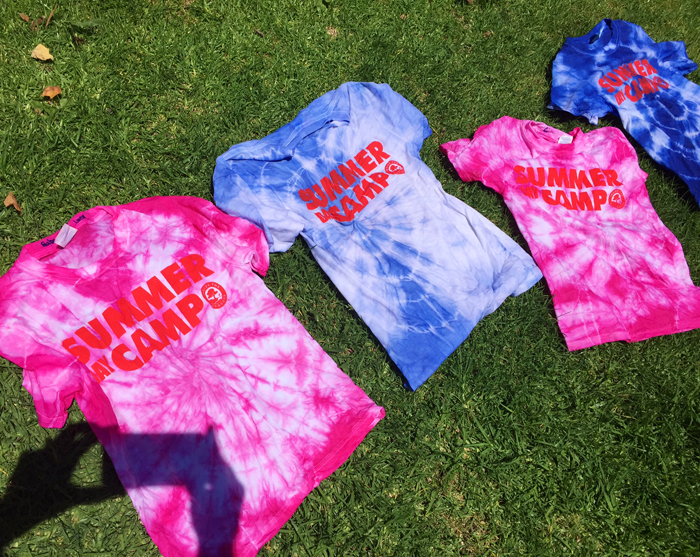 We finished off the day with a nature hike around the Shipley Nature Center.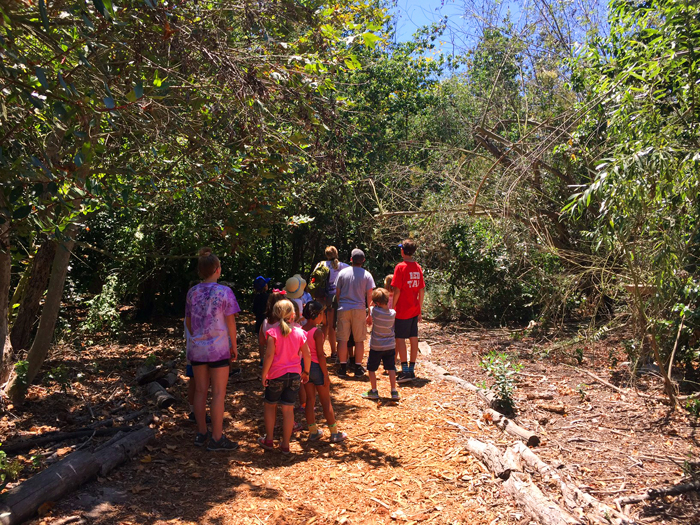 Immediately the kids were looking up and pointing to these beautiful Egrets gaurding their nests.  I have never seen an Egrets nest before and there were so many.  It was a sight to see and the kids were pumped about this hike.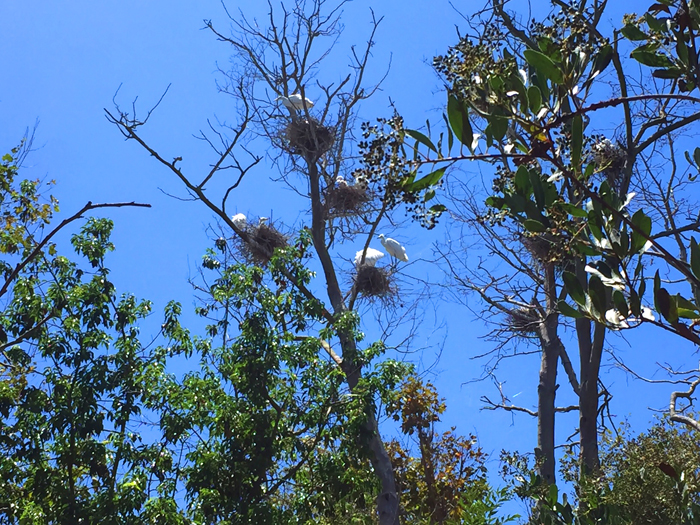 The counselors taught the kids about so many different plants and animals and let the kids touch and smell everything they could.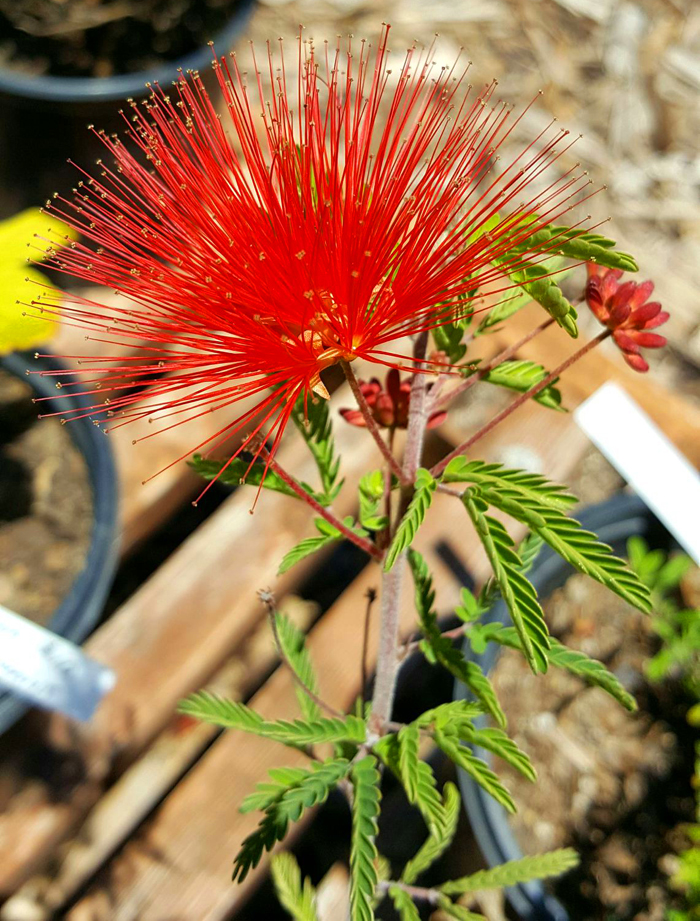 We were surprised how beautiful the grounds were and how you truly felt surrounded by nature in this little corner of Huntington Beach.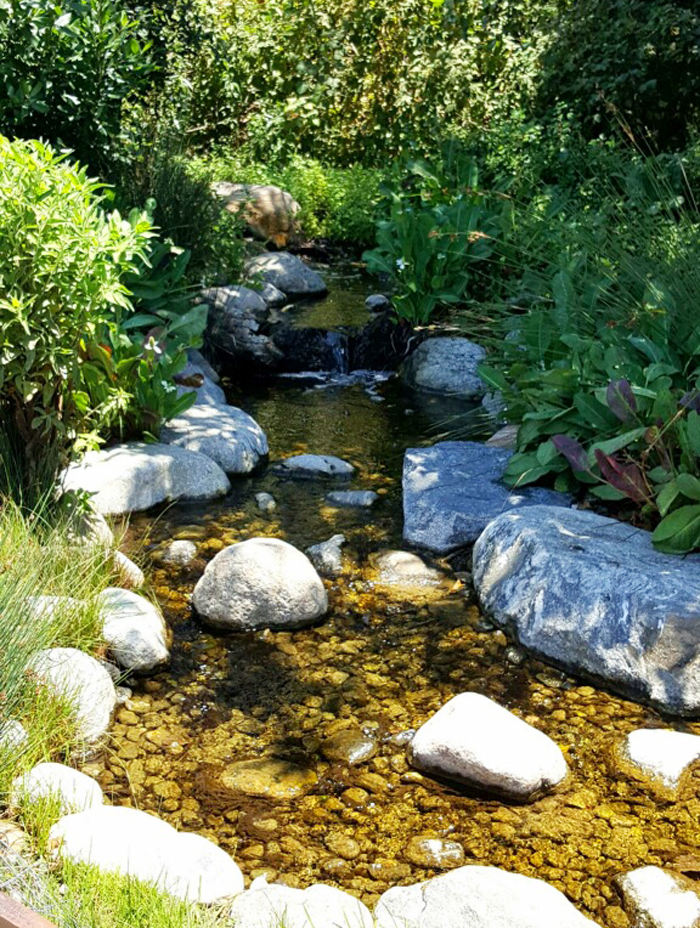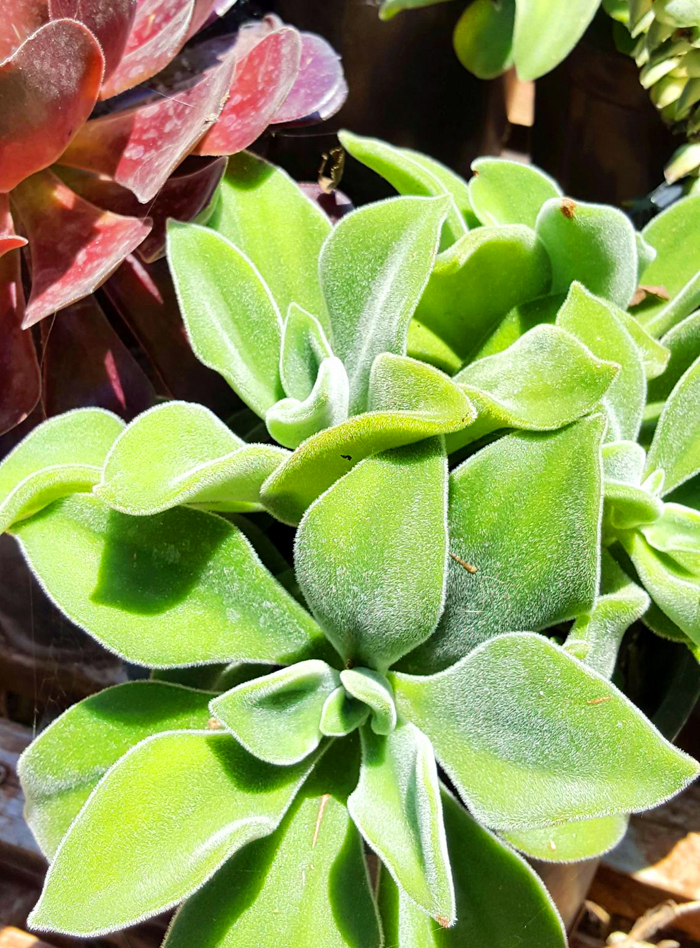 We had the best day and can't wait to go back to visit the Shipley Nature Center for their Cool Summer Nights Experience.  Check it out!  This place is beautiful.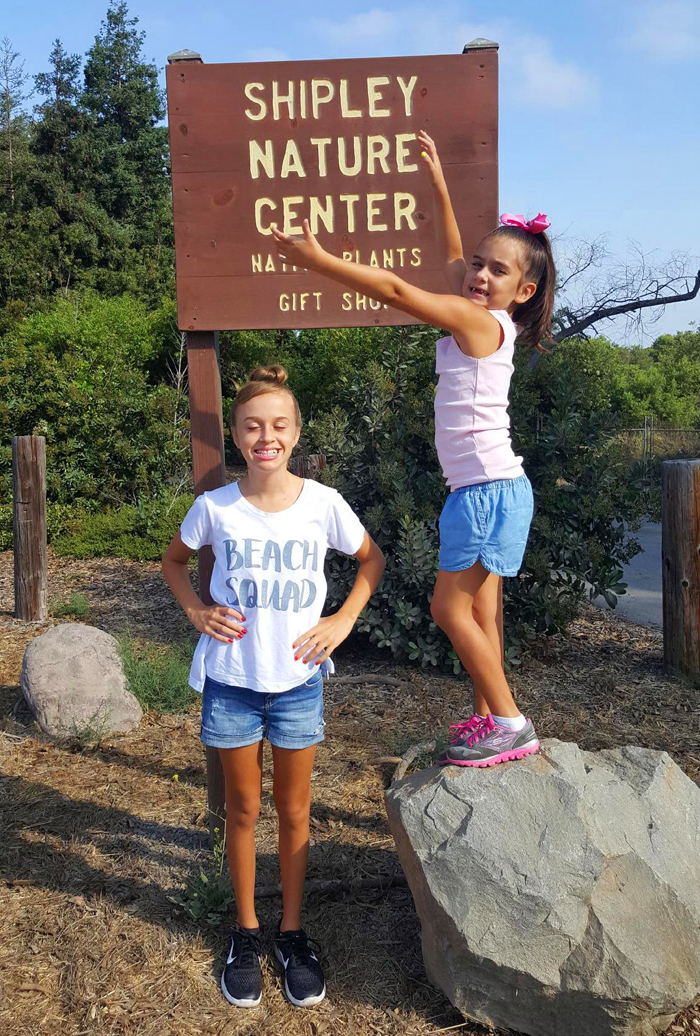 There are still 3 MORE weeks of this amazing camp that will take place at the Shipley Nature Center in Huntington Beach.  You can REGISTER HERE, there are still more spots available.  You won't regret it.  Charlotte and Mika are already planning their summer next year and it definitely includes this camp.  For more info on INSIDE THE OUTDOORS SUMMER CAMP click HERE.
We only experience 1 day of this camp.  I can't imagine all the fun the kids would have during a while week of camp.  Though I did hear Thursdays the kids get to view and learn about LIVE animals!
What summer camps are your kids participating in this summer?  Let us know in the comments.  We'd love to hear.
XO, Michelle
SaveSave
SaveSave
SaveSave
SaveSave