If you are looking for an ICY ADVENTURE this holiday season here in the not so wintery Southern California, look no further.  Last week we were invited to experience the winter wonderland of the QUEEN MARY CHILL.  It was our first time and we had no clue what to expect, but when we arrived our eyes filled with excitement and the magic of this beautiful place stole our hearts and exceeded every expectation we had!  From soaring through the glowing lights on the Alpine Zip Line, speeding down the Matterhorn Mountain Ice Tubing slide, slipping around the ice track on tricycles and our favorite… crashing into each other on the Amsterdam Bumper Boats our excitement never ended.  The theme this year was an International Holiday Expedition so we got to experience a cultural traditions and food from around the world!  This night couldn't have been more perfect, from exciting shows to yummy international goodies.  We loved the family friendly vibe and will always cherish these new holiday memories.  Visit the Queen Mary Chill's website HERE for more info.. you definitely don't want to miss this amazing holiday adventure.
Check out our ICY EXPEDITION into the QUEEN MARY'S CHILL…
THE ALPINE ZIP LINE
We started off our night zipping across the park on these amazing zip lines!  All the kids but little Lucy braved soaring over the CHILL.  You might just sneak a peak of us in all our zipline glory in our facebook video HERE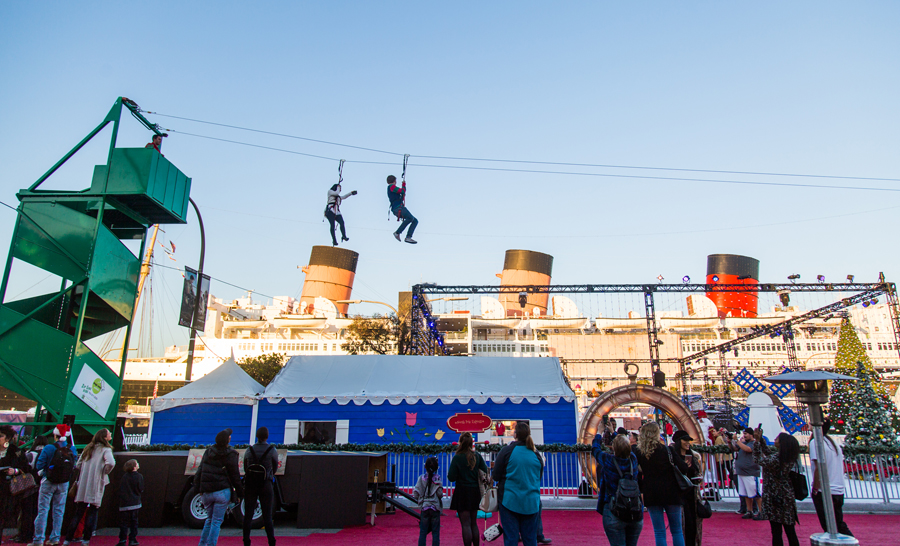 (image via: http://queenmary.com)
AMSTERDAM BUMPER BOATS
These were seriously our FAV!  We would have stayed on these all night if we could have.  We have never seen bigger smiles on our sweet little girls then on these boats!  And the ice and lights made it magical!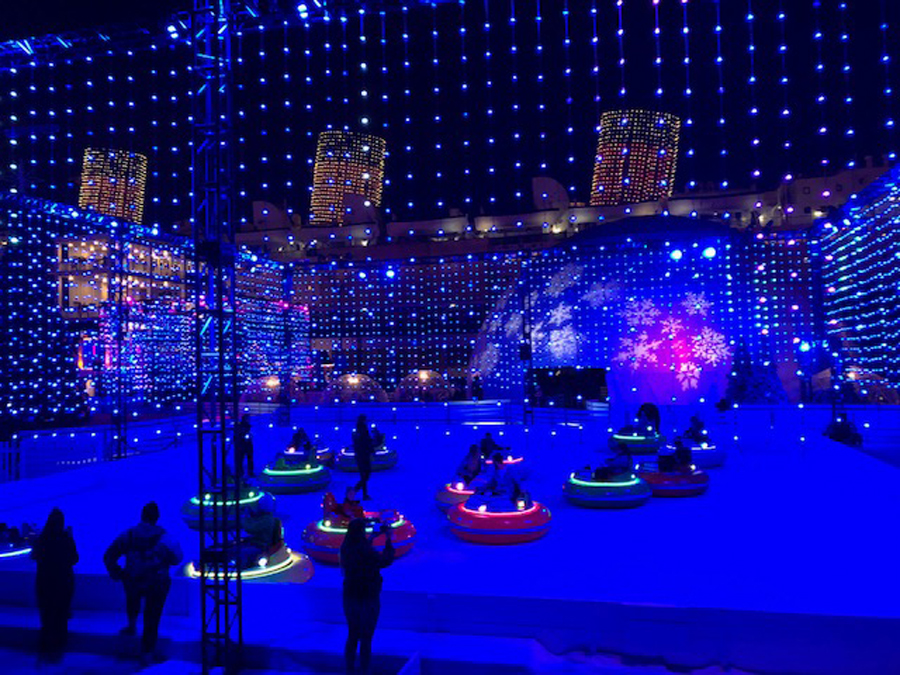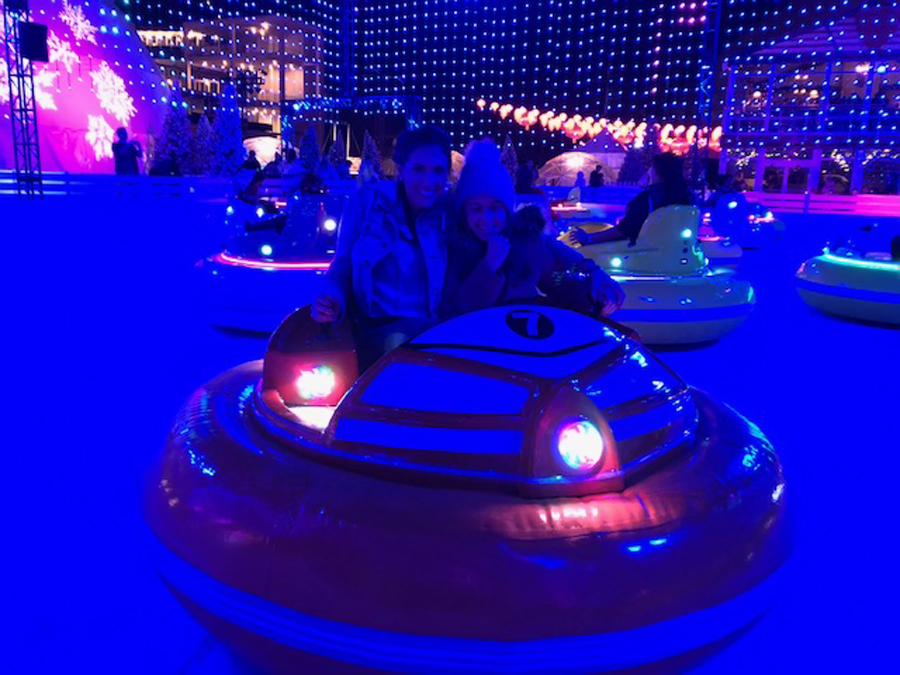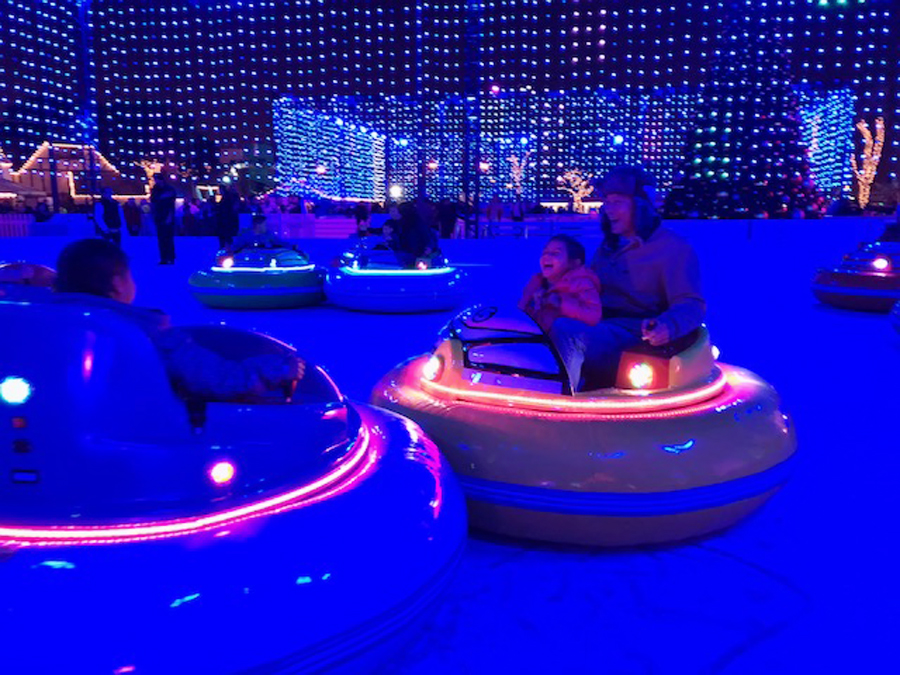 And here is our CELEBRITY FAN GIRL MOMENT!  Yes we were bumper boating with ASIA MONET!  She was adorable.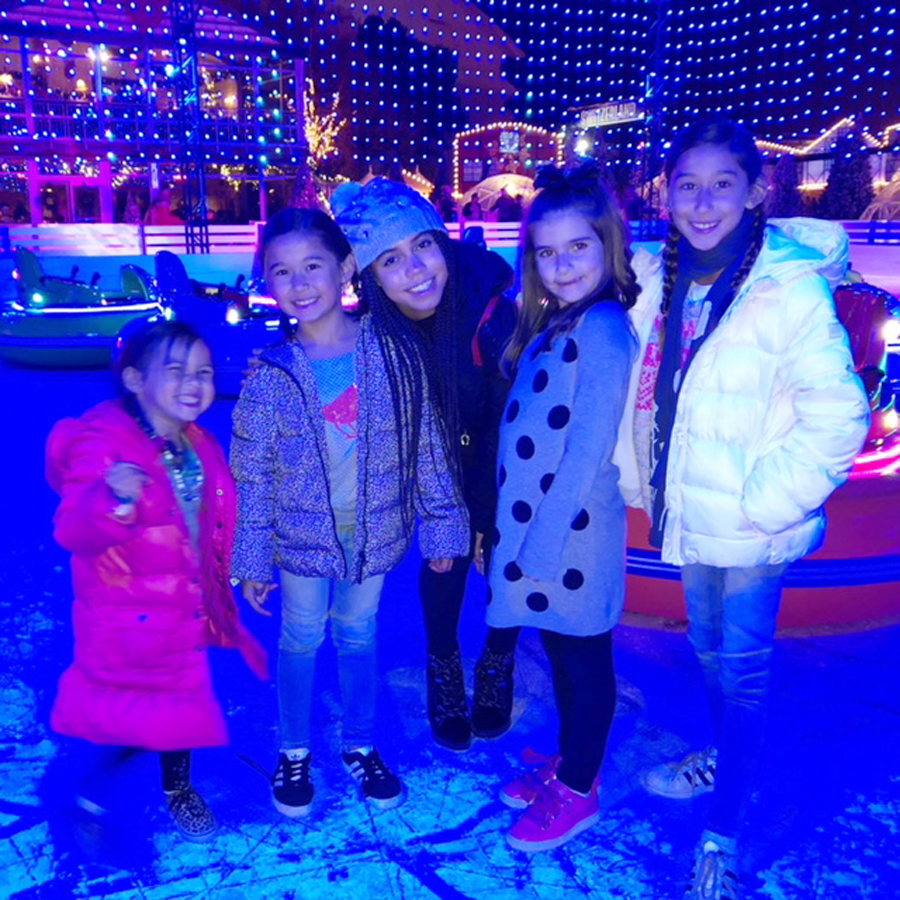 SHANGHAI SPEEDWAY
These slippery trikes were hilarious to experience and watch!  The kids slid around the ice track followed by and adorable PANDA BEAR riding his own trike!  It was the best!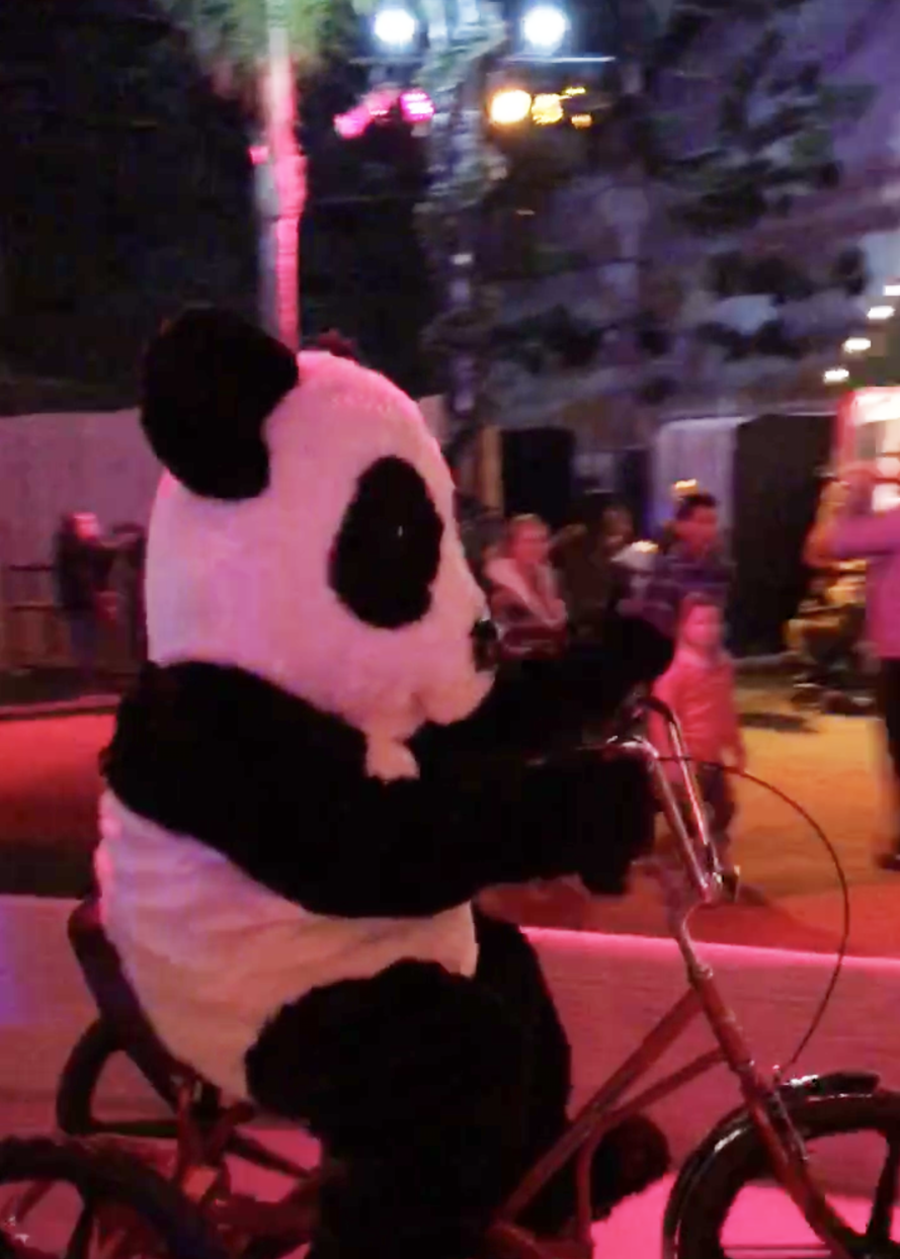 ZEN TEA HOUSE
While the big kids were riding their trikes, little Lucy (who couldn't reach the pedals) opted to make a chinese lantern in the Zen Tea House with the beautiful Tea Hostess.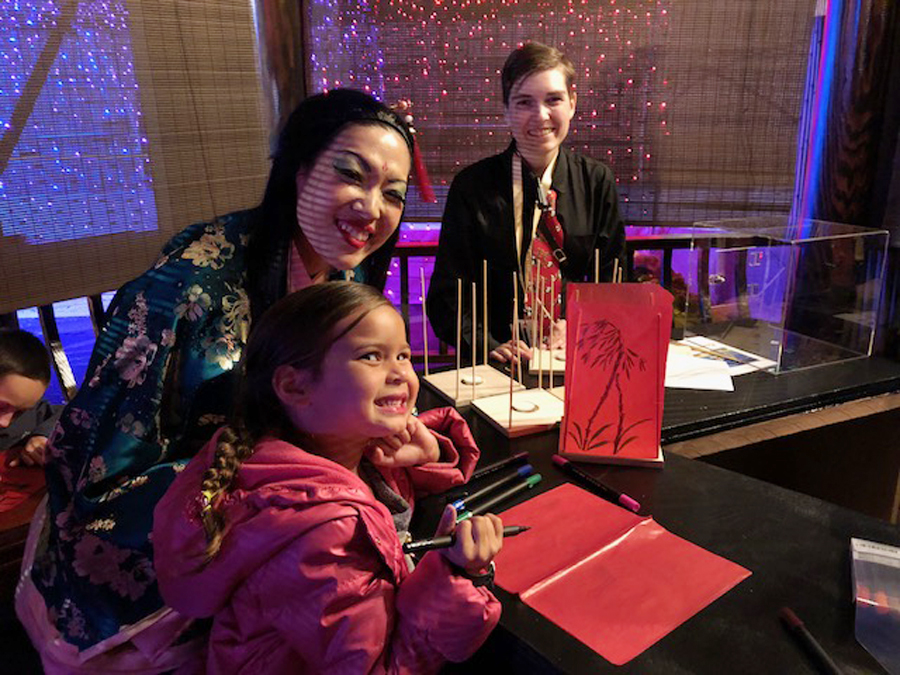 The lanterns above China Town were so gorgeous at night!  We couldn't get enough of all the festive lighting!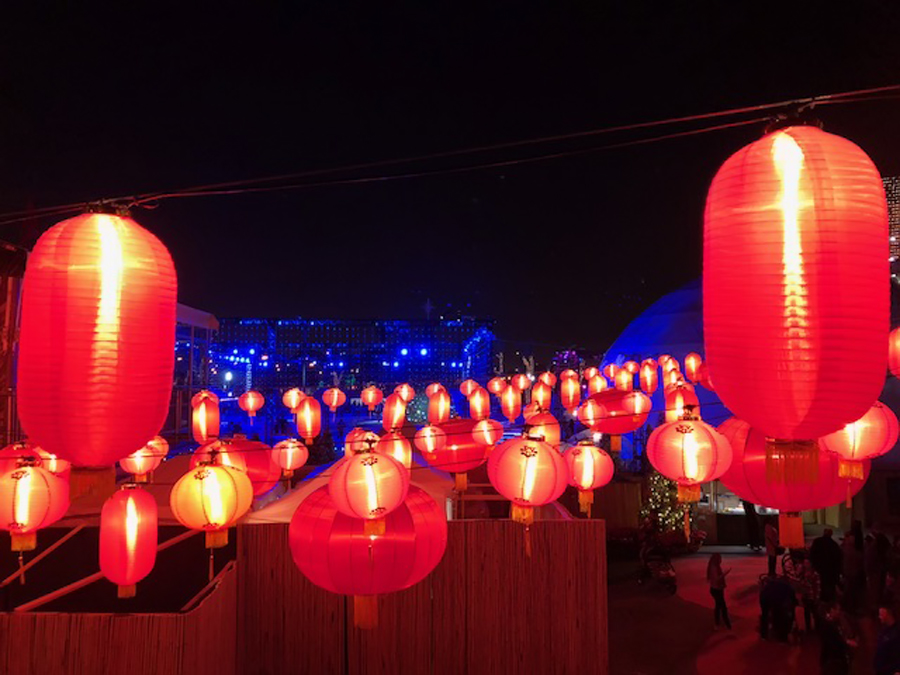 While Lucy was finishing up her own lantern we were surprised with an amazing show performed by Chinese Acrobats! They were so lively and talented, the kids couldn't keep their eyes off of them! There are shows in every land around the park featuring the different cultures of each country.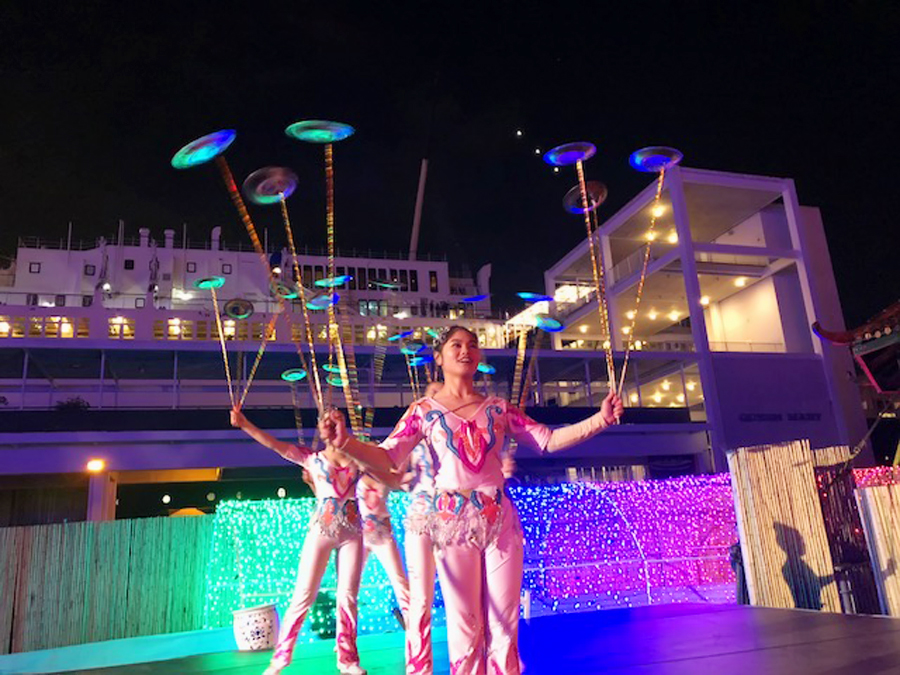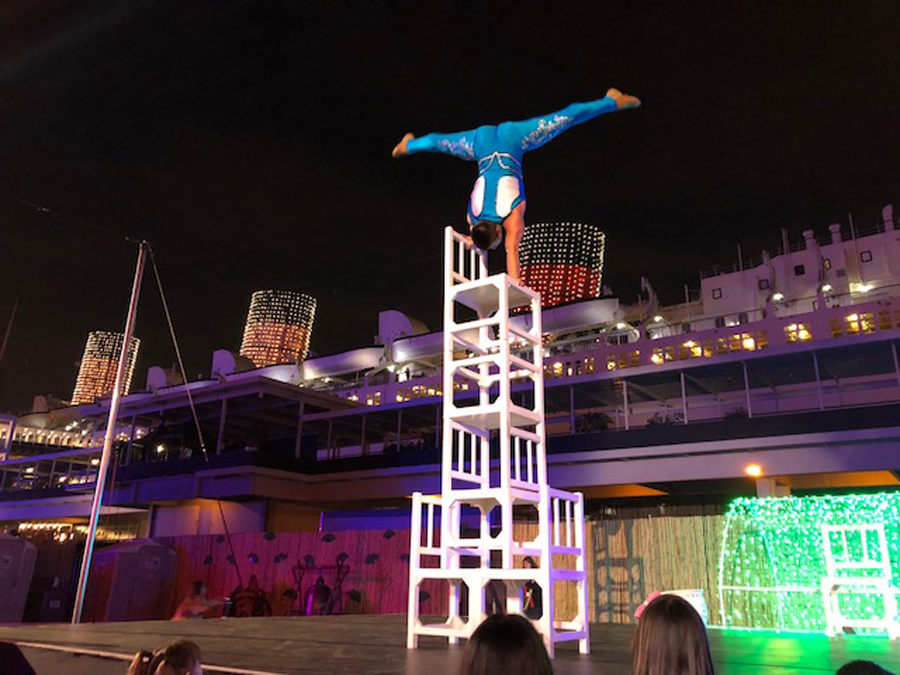 MATTERHORN MOUNTAIN ICE TUBING SLIDE
These are the best! Including in your admission price you can slide all night long down these slippery slopes! They even have tubes that are the perfect size for your littles.  PLUS there are so many lanes to slide down your whole family can race down the mountain at once!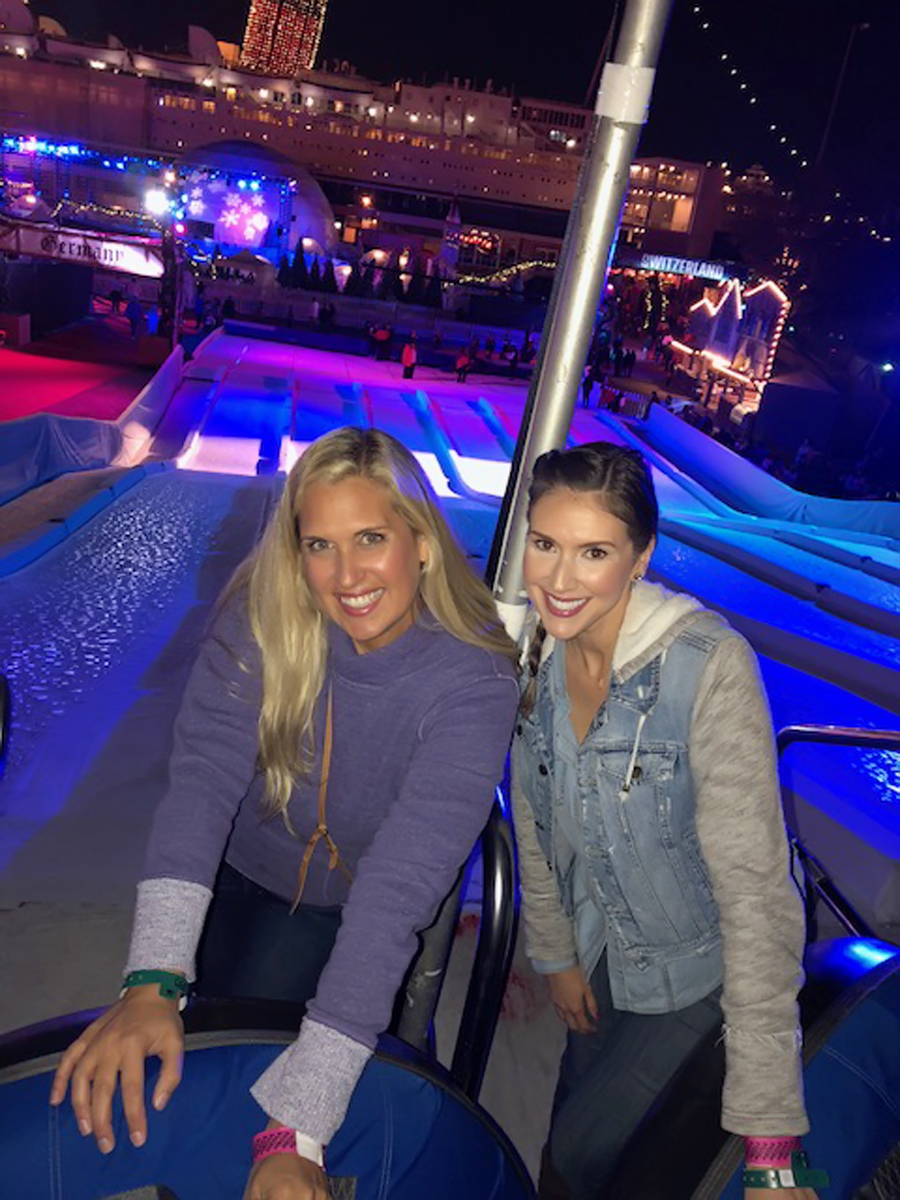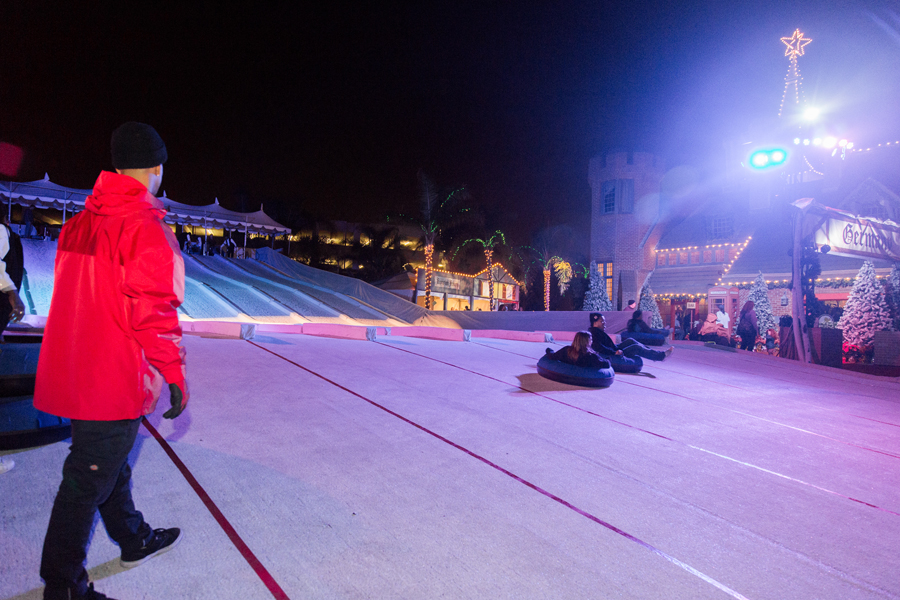 STOCKING MAKING
What a treat this was to let the kids Christmas creativity run wild to create the cutest stockings ever with their new elf friends. There were a variety of colored stockings to start with as your canvas, then a wall full of cute stuffed trinkets the elves helped glue to the stockings.  Sweet Kate loved getting the plush goodies in place to glue down.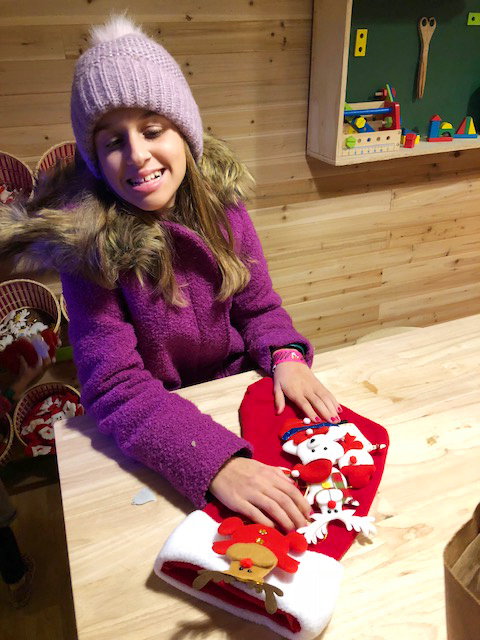 These cuties all went home with new stockings for SANTA to fill.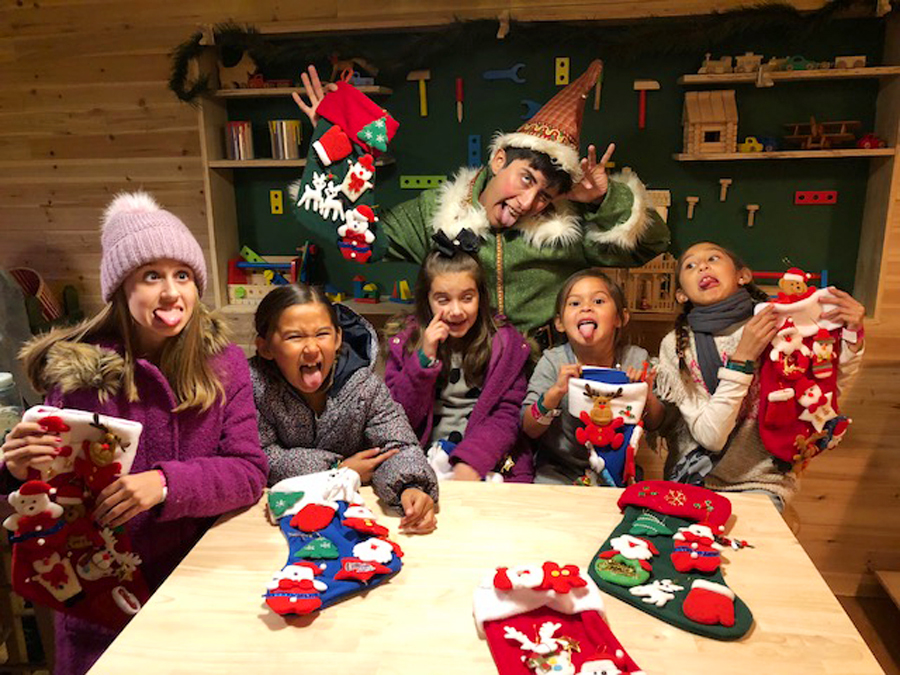 ICE SKATING
The most beautiful sparkling ice rink was dazzling all night in the lights surrounding it. The rink has a trail around the park as well as the main rink. And how adorable are the little polar bears for the smaller kids to learn to skate with!
TREE LIGHTING
The Tree lighting (which is nightly) was an eye catching show filled with talented dancers and wondrous characters.  Our families LOVED the beautiful lit ornaments placed on the tree by the performers and the light show was spectacular!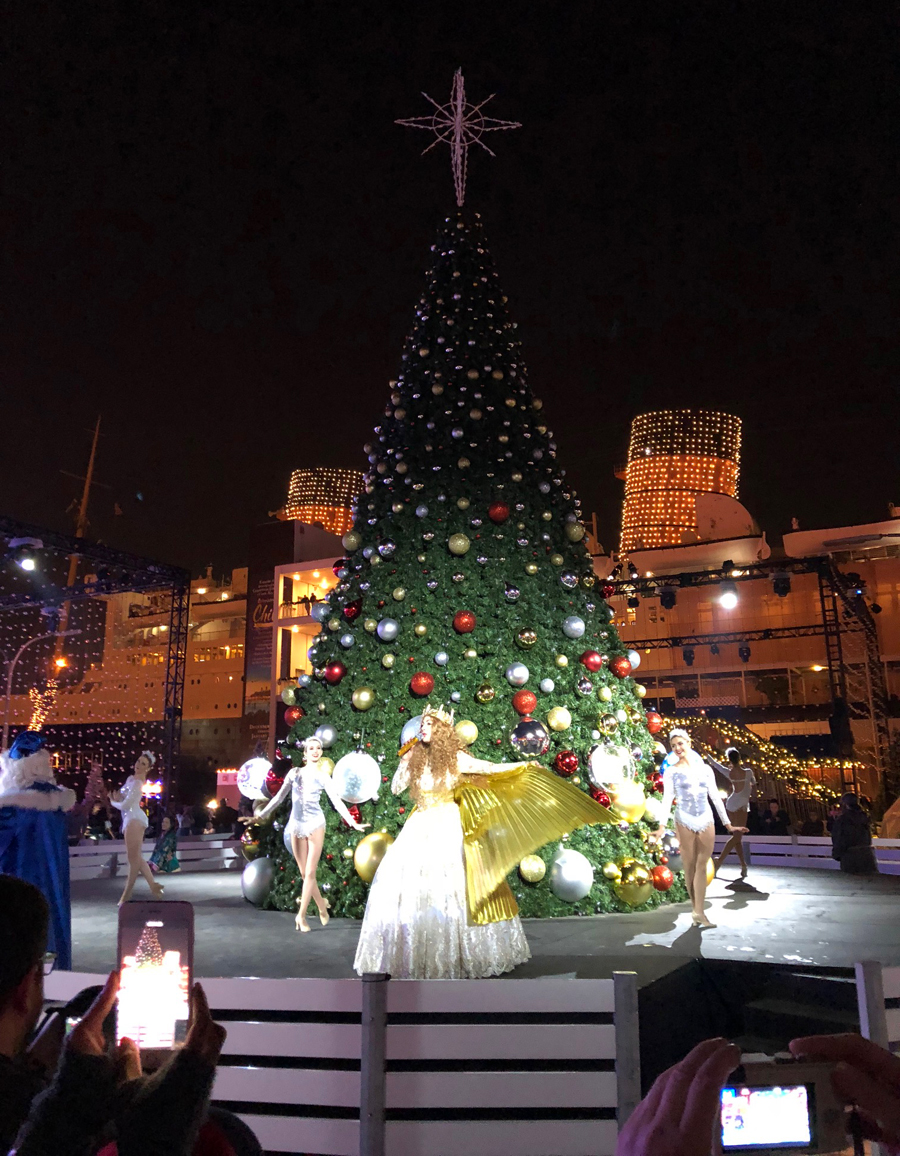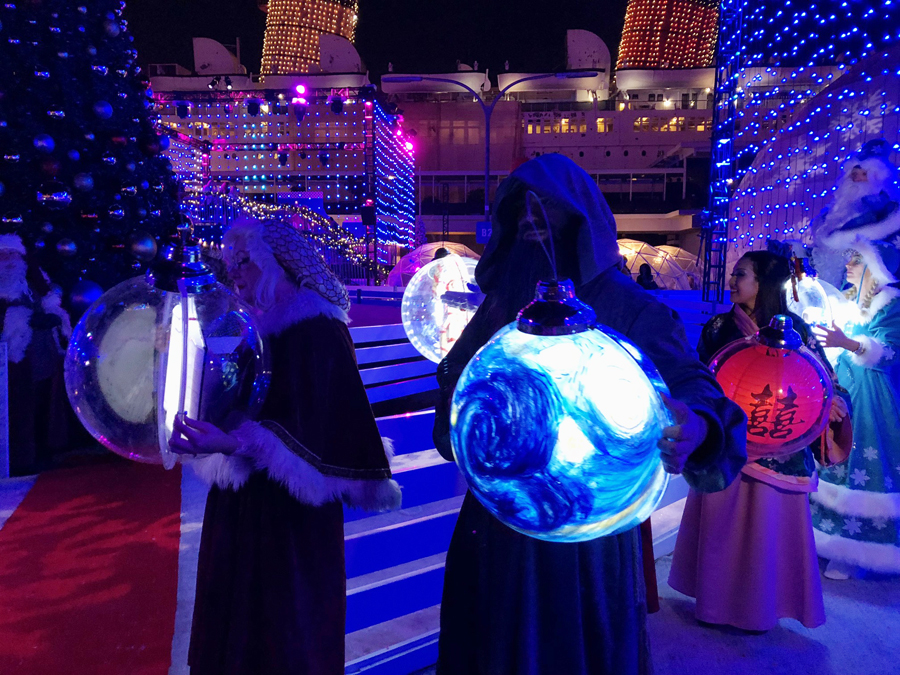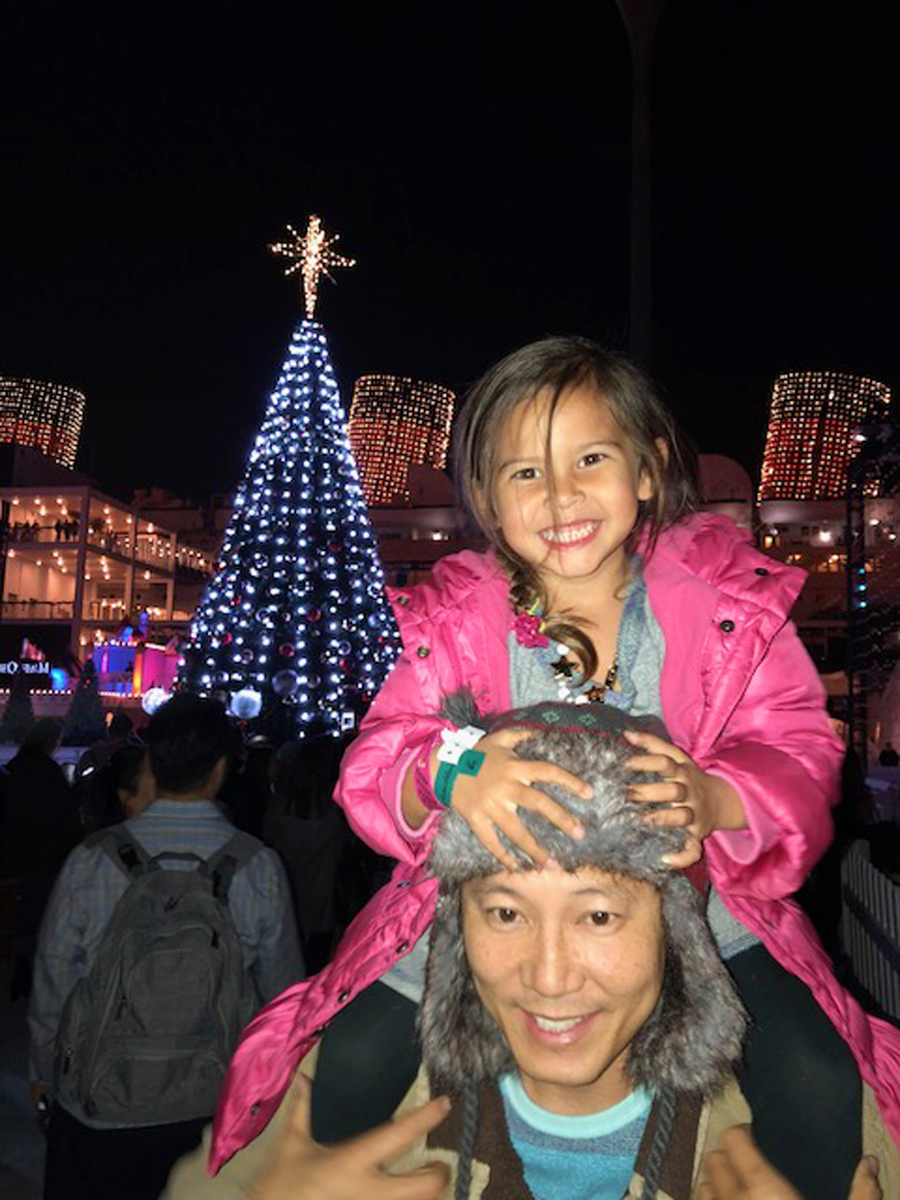 GERMAN TOWN
Kate has a fascination with Germany!  So one of the towns we had to visit was German Town.  All of the towns created by the Chill were amazingly done, but this town hit Kate's heart strings!  There was singing and dancing, the worlds largest rocking horse, a gingerbread making cottage and more!  We chowed down on Bratwurst while enjoying this charming village display.  It was perfect!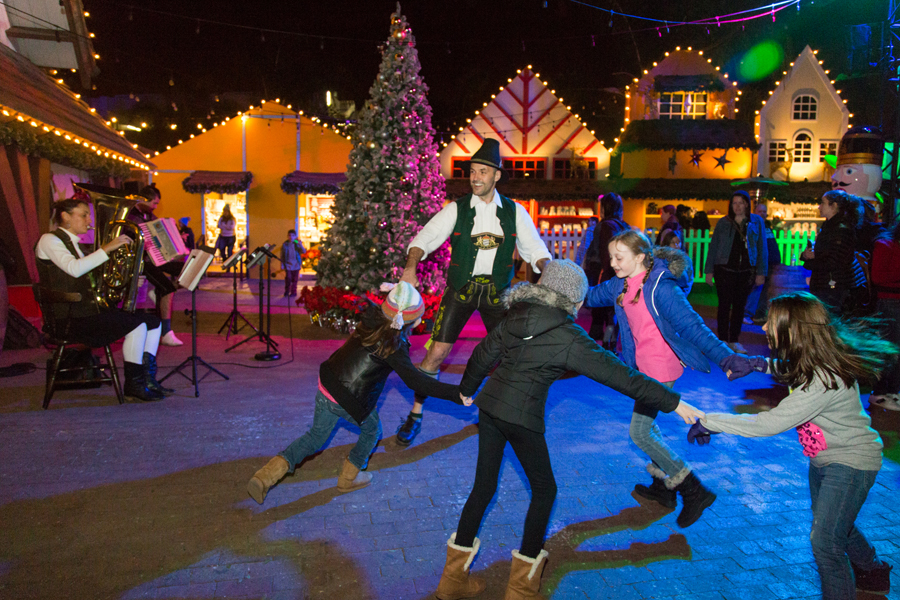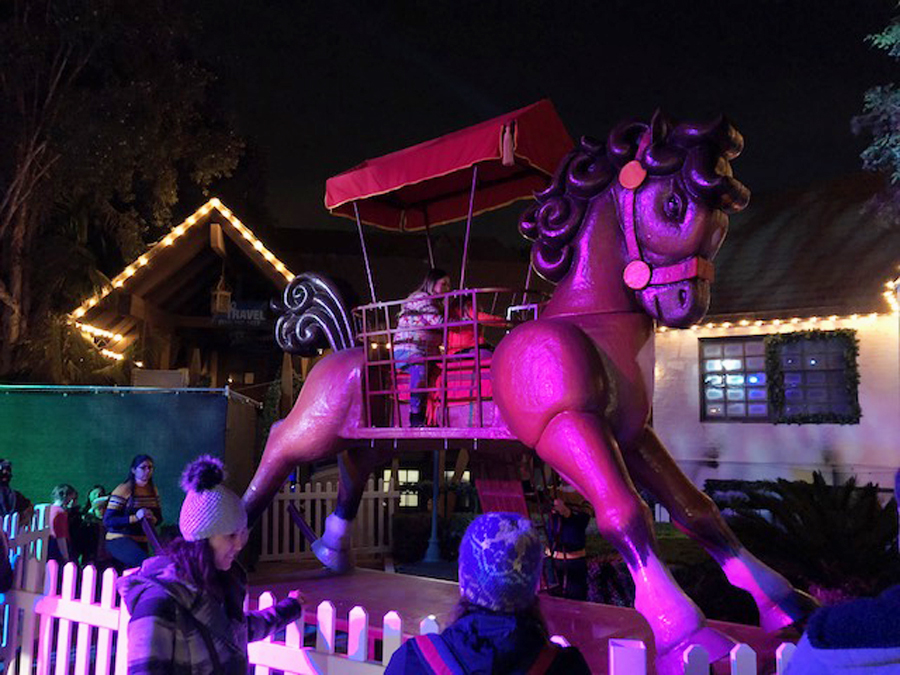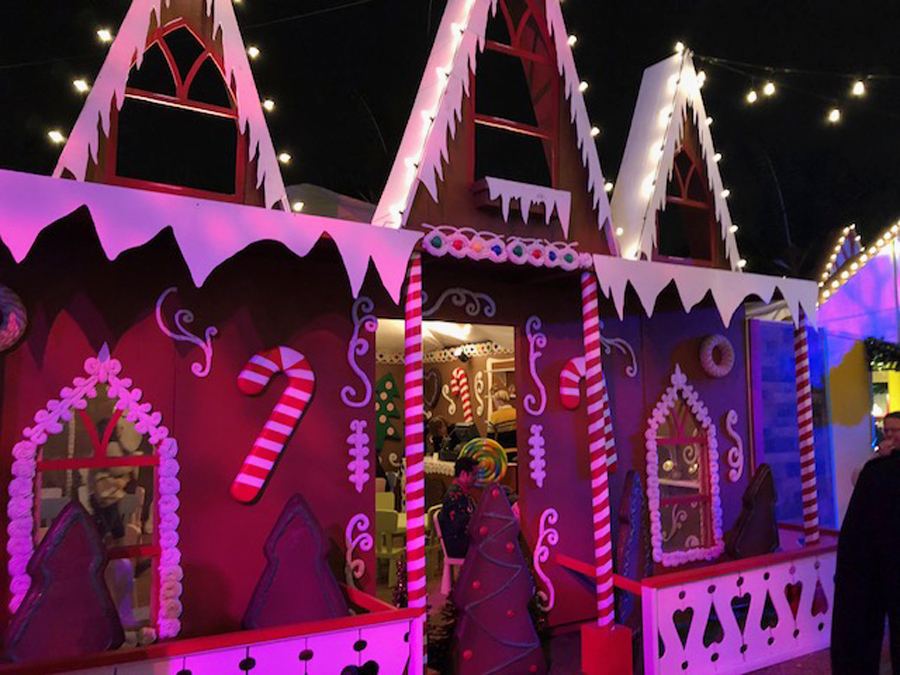 HOT CHOCOLATE AND STORIES BY MRS. CLAUSE
We finished off our night with hot chocolate and Christmas stories read by Mrs. Clause herself.  The perfect ending to a perfect night.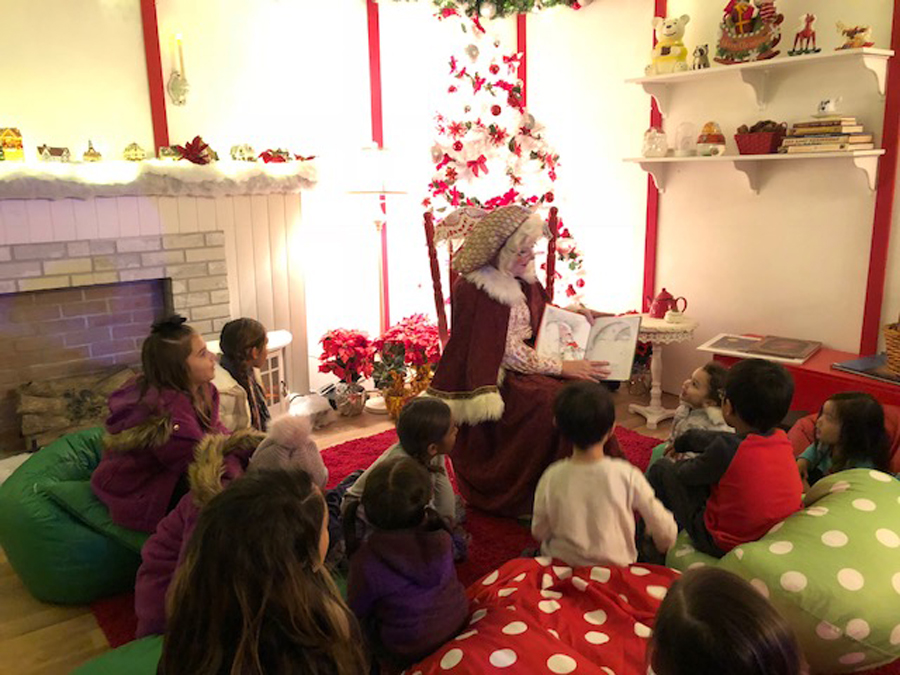 We highly recommend taking your family to experience THE CHILL this season!  We will be making this a yearly tradition!  For even MORE activities SHOWS and CULTURAL EXPERIENCES click HERE.  There is so much more we didn't even get to feature.  We hope you will let us know your favorite experiences at THE CHILL.
TICKET INFORMATION 
TICKETS start at $19 for kids and $29 for adults (ONLINE PRICING) at the door you will pay more.  General admission includes the following..
THE GRAND EXPEDITION: (general admission)
Ice Skating and Skate Rental fee
Ice Tubing on our 145' Matterhorn Mountain
World's Largest Rocking Horse
Access to Live Entertainment
Admission aboard the Queen Mary
4D Theatre Holiday Movie*
If you can, we highly recommend purchasing the
ULTIMATE EXPEDITION pass (online pricing is $69 for kids and $79 for adults) which includes.
ALL items on the Grand Expedition Ticket, PLUS one activity tab for:
        North Pole Express Zip Line

     Amsterdam Bumper Boats

   Shanghai Speedway Ice Cycle Track

      Stocking Stoppe Decorating.
FOR MORE TICKET INFORMATION AND TO PURCHASE TICKETS CLICK HERE.
PLUS USE CODE HOHO30 for 30% OFF YOUR TICKET (while supplies last)!!!
We love you all and hope you all have a very MERRY CHRISTMAS!  Please share your favorite Holiday Traditions with us!
XOXO, Michelle & Jamie
(This is a sponsored post, though all opinions are 100% our own)
SaveSave
SaveSave
SaveSave
SaveSave
SaveSave
SaveSave
SaveSave
SaveSave
SaveSave
SaveSave
SaveSave
SaveSave
SaveSave
SaveSave
SaveSave
SaveSave
SaveSaveSaveSave